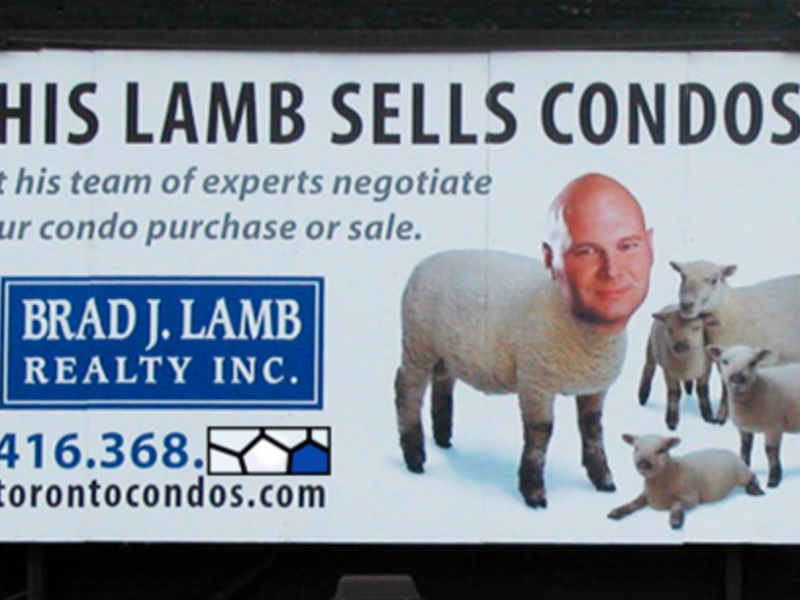 TORONTO – In the lead up to the October 22 municipal election, it looks like incumbent Mayor John Tory will have a new opponent to face: this Brad J. Lamb Condo Development Notice Sign.
The Brad J. Lamb Condo Development Sign, which was taken off the side of a beloved independent music venue which will soon become a 32-story, 618-unit condominium with studios starting in the low 800s, announced its intentions to run in the upcoming race in a press release to the media.
The sign, which was unable to answer questions due to being an inanimate object, still generated buzz among potential .voters.
"I think this is extremely exciting for Toronto," said real estate investor Faraz Mohammed. "Condo development is such a big part of this growing city, it's high time they have proper representation in government."
Industry groups have expressed excitement over the run, and are expected to formally endorse the Brad J. Lamb Condo Development Sign later this week.
"We searched far and wide for a mayoral candidate who would be even more supportive of our agenda than the current administration," said Ontario Condo Builders Association spokesperson Thomas Greene. "After an exhaustive search, we realized the only way a mayor could be more pro-condo than John Tory is by being a physical embodiment of a condo development."
While most in the condo development world have expressed similar support, some have criticized the move, expressing concerns that the Brad J. Lamb Condo Development Sign may offer preferential treatment to its maker, condo developer Brad J. Lamb.
For his part, Lamb has refuted these claims, saying that his development sign will fight for the rights of "all condo developments, no matter what they look like or where their financial backing is from."
"For too long we've merely been a city of condos governed by people," said Lamb. "Now we can finally realize the truest version of municipal government. A city that is of condos, by condos, and for condos."
As to whether the Brad J. Lamb Condo Development Sign has a chance of winning, experts say it might very well be possible.
"Political campaigns are all about name recognition," explains political strategist Kelsey Baxster.
"And there is no Torontonian that hasn't seen a Brad J. Lamb Condo Development sign on their favourite restaurant, local theatre, or heritage property that mysteriously burned down."