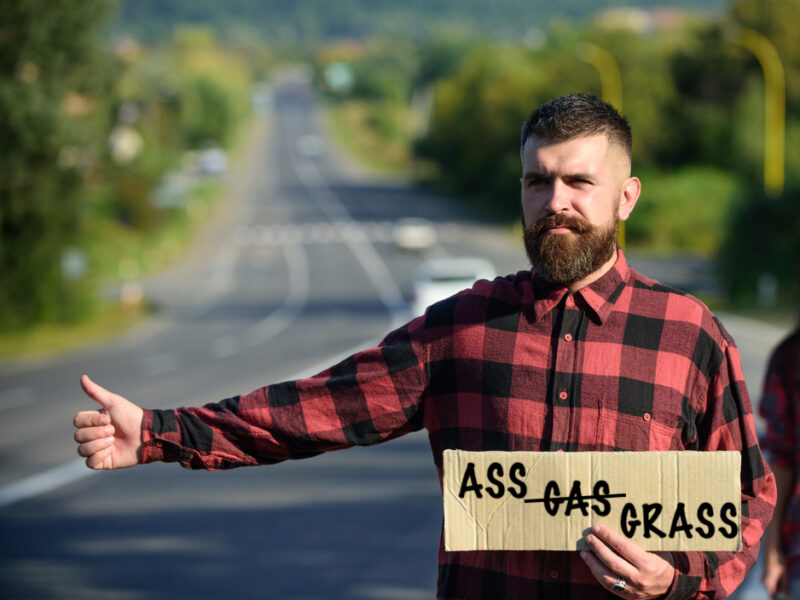 GUELPH, ON – The latest Census Canada polling numbers show the majority of Canadian ridesharers are turning to more traditional payment methods like grass and ass in response to the recent rise in gas prices.
"It's just too expensive," said Mississauga resident Rhonda Powell. "Most people in need of rides aren't interested in blowing a month's rent to get from Oshawa to Kingston. Since the market allows for other options, most of us are going green or brown these days, if you catch my drift." 
The polling data agrees, with a majority of respondents having stated their willingness to "sling a dime," "buss' it down," "hand-balm the smoke," "drop it, bounce it, flip it around," "barter with drugs," or "make the back seat like macaroni in a pot" to pay for their out-of-city and inter-provincial travel. 
Meanwhile, rideshare apps like HÖBO and DRFTR are helping to modernize the culture, with in-app options being added to make wireless payment with ass and kush easier than ever.
Still, for most Canadians, the census poll raises a larger question as to the increasing unaffordability of a basic commodity like fuel. Many, like Belleville mayor Mike O'Shea, are visibly outraged.
"Over two bucks a litre? Hell, I don't do drugs, but I'll spread my ass wide and hang as much dong as they can fit in the trunk if it means dodging that bullet," said O'Shea. "Plus, who am I kidding, it's nice to be wanted once in a while."
"And this is just the beginning," says HTCHHKR CEO Suresh Thava. "What started with a bumper sticker is growing into the next big economic trend. Soon, you'll be able to pay with weed and asshole at coffee shops, movie theatres, Arbys- you name it."
At press time, senior executives from Microsoft, Netflix, and the perma-fried guy selling nitrous at Phish concerts had plans to follow suit.