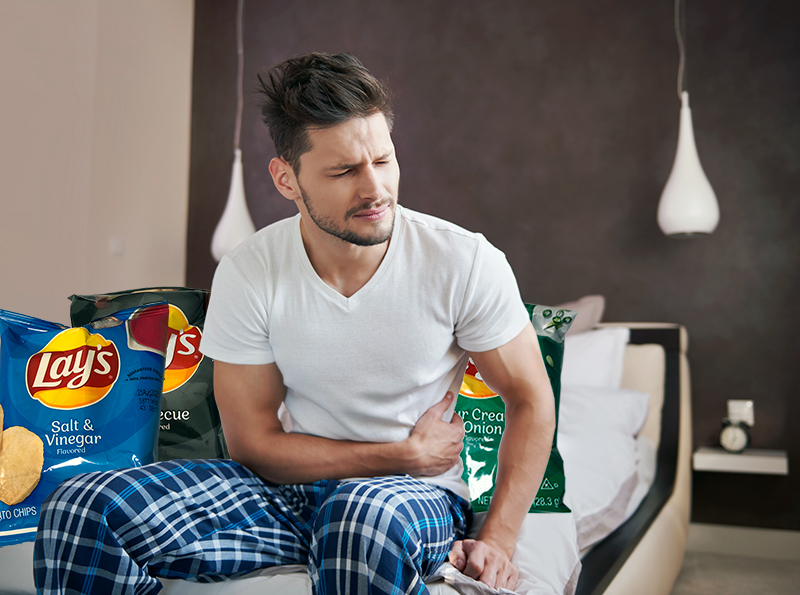 CALGARY – Sources report that 27-year-old Elliot Greenwood has amazed and disturbed onlookers by bringing two bags of chips into bed with him.
"I really like sour cream and onion, but I also really like ketchup, so I figured hey, why not?" the depraved libertine told a horrified reporter. Greenwood then went into extreme detail regarding his plan to eat from one bag, move on to the second, and finally mix the two together into one indistinguishable flavour.
The bags, which were carefully selected at Greenwood's behest by a man paid to go out into the world and acquire unsuspecting young chips on his behalf, have yet to be unsealed. Sources believe that Greenwood especially savours the raw thrill of popping open a fresh bag.
"He darts into his room with shopping bags and then there's just hours of rustling and moaning," said a roommate who asked not to be named. "One time I peeked in there the morning after and let me tell you, it was not pretty. There were dip stains on the sheets, crumbs everywhere, and whole chips caught in Elliott's beard. He must have finished the bag by just dumping it over his face and then going to sleep."
Previous visitors to Greenwood's chambers have included a trio of cereals from three different countries, twin brands of pretzels, and as many as four flavours of ice cream in a single night.
"He grabbed two cartons from the freezer, which I thought was excessive to begin with," said another roommate. "Then an hour later he'd had his fill of those flavours and returned for two more. Rocky road and tiger ice cream at the same time? The man's insatiable."
"My job has been really stressful lately," said the shameless Greenwood. "So why not treat myself by going a little wild now and then?" the debauched tyrant added, bragging about his ability to lord over the fate of snacks like a God.
At press time, a shirtless Greenwood was going back to the kitchen for a bottle of olive oil to drizzle all over the chips while ripping apart an empty chip bag to suck the salt and grease from the foil.