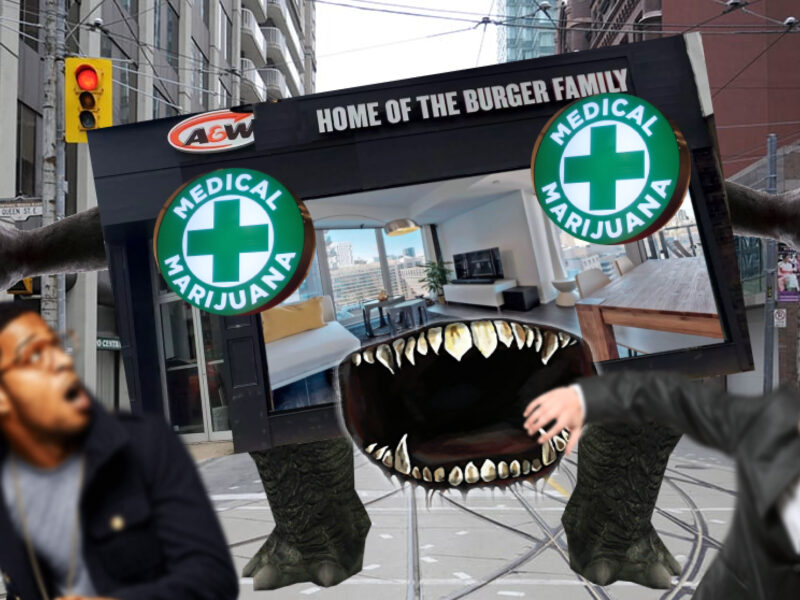 TORONTO – The downtown area is in complete chaos as Torontonians flee for their lives after the city's omnipresent condos, A&W franchises, and marijuana dispensaries somehow coalesced together, gained sentience, and went on a rampage.
"Good God, they're everywhere!" screamed local resident Jenny Toomes, 27. "I just got chased by an anthropomorphic property with arms and legs, trying to eat me! It smelled like root beer and mediocre weed, and it was definitely too small for two people to live in, but it did crush my boyfriend to death!"
"They're on every corner, somebody stop them," yelled Toomes before being chased down Bloor Street by a pack of hybrid condo/dispensary/A&W's.
Witnesses report the unnatural fusing of the 3 different types of buildings began to occur this summer, as Toronto's available property officially reached the threshold of being 80% newly-built condos, A&W restaurants, and weed shops. From there, scientists say it was only a matter of time before the three most oversaturated properties in the city began to cross-mutate.
"I tried to warn city council about this inevitable calamity! The fools!" explained Dr. Tyrus Maltheson, lead abomination researcher at Ryerson's School of Urban Planning. "Every inch of available space in this city has been turned into one of these three things. What did they think would happen? What?? Also, why has every single heritage bank been turned into an A&W? Were Mama Burgers ever actually that popular?"
Dr. Mathleson attempted to outline a strategy to combat the terrifying creatures by genetically-engineering some of the city's plentiful Rexall locations, before being eaten alive by a 600 square foot pot/burger store.
Researchers believe the crossbred buildings, or "condospensary&W's" as they've come to be known, will stop at nothing until they account for 100% of the usable land in the city of Toronto. Residents are helpless to slow their spread, as all 3 levels of government have made it clear they intend to do nothing to intervene.
"I think we should applaud the entrepreneurial synergy of these crimes against humanity," said Mayor John Tory as dozens of condospensary&W's converged to attack City Hall.
When informed that monstrous retail/condo kaijus were laying waste to Toronto, Premier Doug Ford responded, "Good" before hanging up. At press time PM Trudeau did not respond as it was no longer an election year.
Back in Downtown Toronto hope has broken out as the rampaging condospensary&W's have been challenged for dominance by another monstrously mutated race of sentient Wine Rack/ escape rooms/ craft brewery creatures.