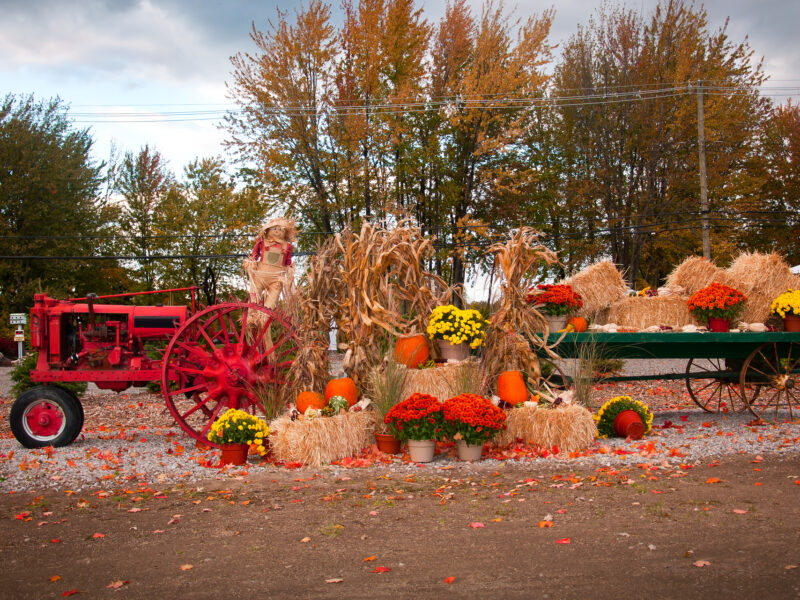 Vaughan ON – Many longtime patrons are still wondering what motivated Friendly Farmer John's Hayrides to abruptly change their name to Farmer John's Haunted Hayride. 
"I asked John if it was just for the halloween season and he said 'Oh yeah, I guess it's almost Halloween, that's convenient,'" stated neighbour Josh DeWalter. "I did hear a lot of screaming last night. Maybe someone hurt themselves while putting up signage?" He added hopefully. 
The name change was initially accompanied by bloody handprints decorating the property but later in the day it appeared that these had been cleaned off with bleach. A skeleton also appears hanging at the end of the ride but it is unable to be removed as it is evidence. 
When reached for comment Farmer John grimly stated "It's not spooky. It's not spine chilling. It's not hair raising. Or any other term that could be misconstrued to mean Halloween fun. It's haunted, as in a wronged soul is tormenting the living." He also stated that cider is now haunted,  the petting zoo has been haunted for years and the corn maze is currently unhaunted. 
The hayride is not the only business to change names as Deb's Apple Picking is now simply Deb's Apples after multiple violations of the Employment Standards Act.