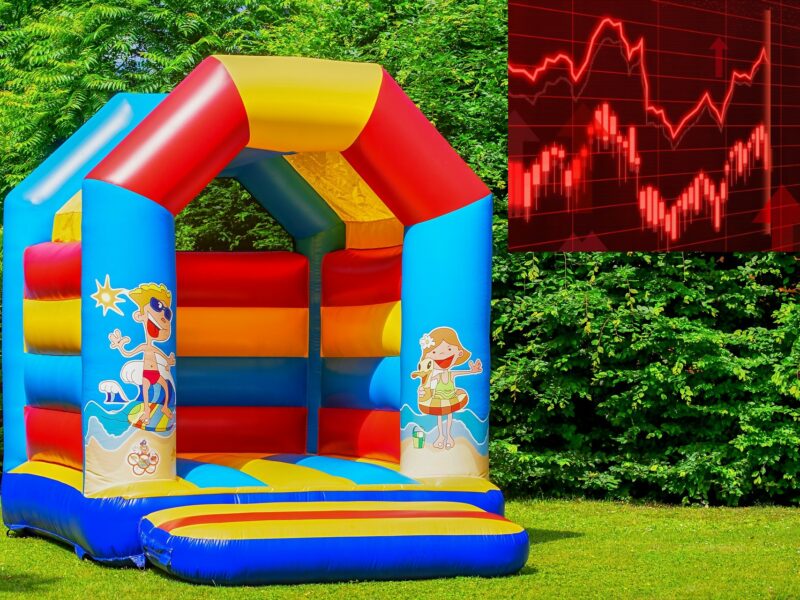 VANCOUVER – After a record-shattering March, experts are warning that the asset valuation of Canadian bouncy property may be drastically overblown, to the point where many young Canadians worry they may never one day own an inflatable nylon castle or obstacle course.
Initially, many economists predicted a price slump in the wake of the COVID-19 pandemic, however the growing need to entertain children stuck at home over lockdown has led to a surge in both the rental and purchasing of bouncy houses (seriously, this is 100% a real fact, look it up).
Victor and Sukhmani Nadir, a young couple living in metro Vancouver, laid out their struggles as first-time bouncy-homebuyers. "It's a nightmare [trying to buy] right now. Just last week, a single room bouncer in Kerrisdale with several rips and a busted door zipper sold over asking on the first day listed. Our realtor, Bobo the Splendiferous, told us if we couldn't pump up our offer by 20% to not even bother bidding."
Meanwhile measures enacted by the B.C. government including rezoning of land for several new bouncy condominium towers and a 1% double-bouncing tax have done little to slow the ballooning demand for the popular children's birthday feature.
Hurly Roberts, part-time carnie and Director of UBC's school of Community and Regional Planning, had a dire warning if the scarcity crisis continues. "If people cannot build a life here, they will simply go elsewhere. No bouncy housing means no face painters, no caricaturists, no puke cleaner-uppers. We're looking at a level of bouncy community collapse not seen since the Great Depression."
When asked about potential future plans, Victor and Sukhmani responded, "We're going to keep looking. We've lived in the Lower Mainland our entire lives and we love it here but sadly if the market doesn't deflate we may have to bounce."