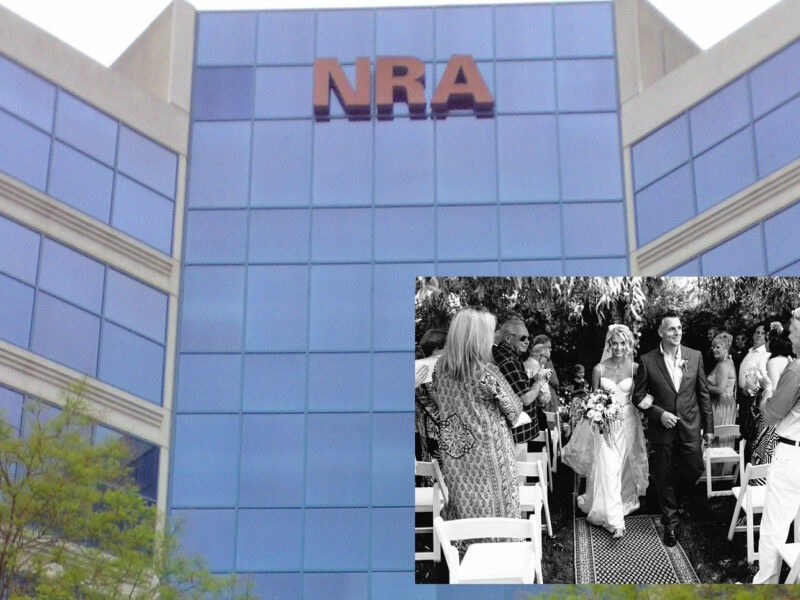 NEW YOURK CITY – Last Friday the National Rifle Association filed for bankruptcy after mass shootings officially dropped to 2nd Trendiest Way To Murder, since newcomer "attending a full wedding during a pandemic" shot to the top spot.
"Guns just don't give me that same feeling they used to," stated former gun advocate Todd Redd, a Texan who hasn't washed his hands since 2018. "Sure, they go bang bang, which is appealing, but watching two people in love vow to be together for the rest of their life, knowing that they'll probably die within the next month… that's Shakespearian."
Despite the drop in popularity, NRA CEO Wayne LaPierre has continued pushing for gun use since the COVID-19 outbreak began. He explained, "The summer was when I first noticed a drop in gun use. You know, everyone wants to be a June bride." LaPierre and NRA marketers had originally worked up a campaign to "shoot those COVID germs away", until COVID-19 deniers and gun owners proved to be "almost a circle in the venn diagram of southern U.S."
In response, LaPierre has begun working with the Browning Arms Company to design more wedding-friendly weapons. He went on, "I heard the hot wedding colours were sage green and light terracotta, so we made colourful little guns you could maybe add to your bouquet? But it was a no go. Marriage used to be between a gun-wielding man and gun-wielding woman. COVID-19 is threatening the sanctity of marriage."
LaPierre continued saying the decision to move to Texas was due to the fact that the state is the Mecca of guns at weddings.
Redd, who has never once coughed into his elbow, had struggled to find a hot new murder style ever since guns had become ubiquitous. "You'd see them everywhere, movie theatres, WalMarts, they even started having gun safety checks in schools! So, I thought I'd change things up with a guillotine, but it was hard trying to get the victim to stay in one place. COVID-19 has been a real friend to me."
At press time, NRA members were seen matching quirky socks to their tuxes to add a bit of pizzazz to a tightly-packed groomsmen photo.