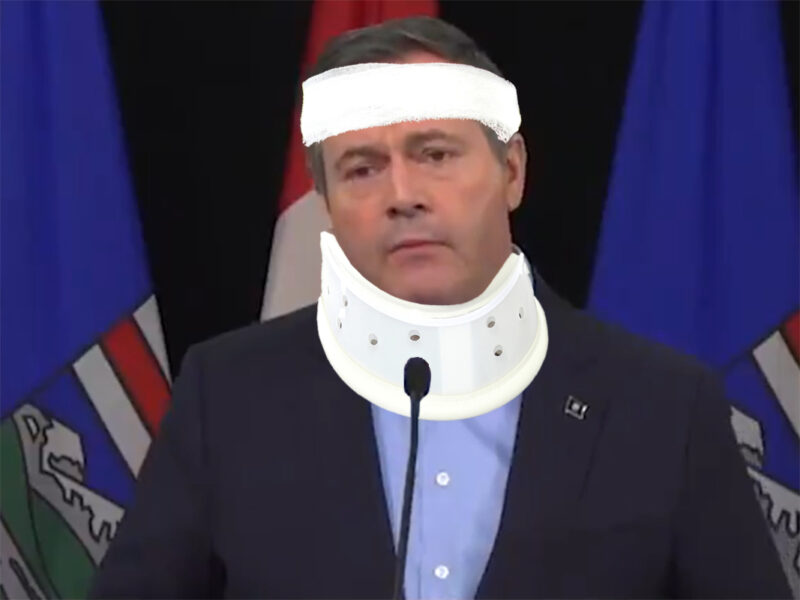 EDMONTON – Appearing outside a courthouse with his injury lawyer, Alberta Premier Jason Kenney is suing US President Joe Biden for physical and emotional injuries caused in the revocation of the Keystone XL permit.
Speaking through his Diamond and Diamond lawyer, a feigning Kenney said he may never be able to lay another pipeline again or enjoy the simple pleasures of criminalizing environmental protesters.
"[US President] Joe Biden – and presidents before him – caused my client to recklessly purchase the Keystone XL pipeline setting off a chain reaction of events," said lawyer Mark Barnes. ]"My client is seeking at least $1.5 billion from the US, a nice apology card, and an approval for all future pipeline projects."
The sudden cancellation of the pipeline that would have carried Alberta synthetic crude and bitumen to refineries in the US allegedly caused Kenney's head to snap back in shock and severe emotional distress.
"Jason is suffering from severe political whiplash, and chronic partisan pain," said Health Minister Tyler Shandro who claimed to be a doctor since he's berated so many of them. "He will need to use a wheelchair whenever he appears at a press conference related to the oil and gas industry."
Meanwhile, Saskatchewan Premier Scott Moe said the pipeline wasn't dead, it's just resting its eyes.