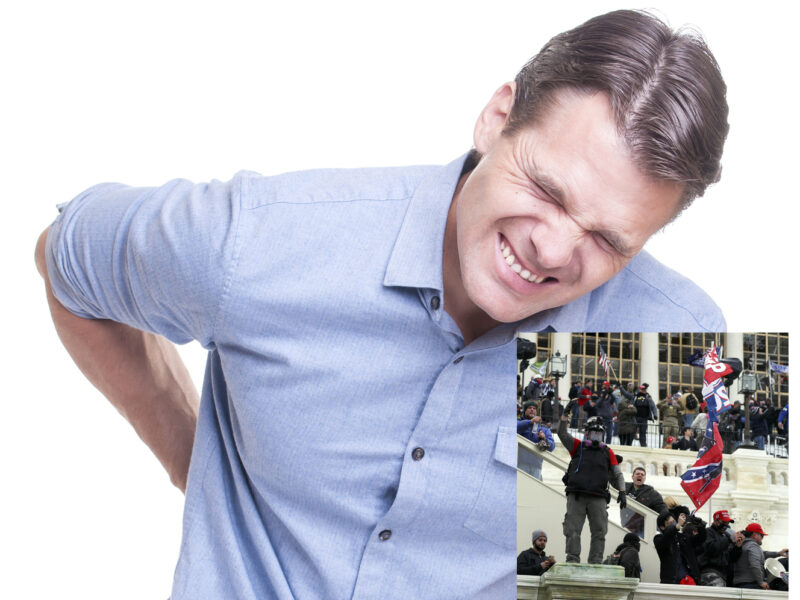 FORT LANGLEY, BC – Physiotherapists nationwide are reporting a sudden influx of Canadians who have been injured trying to pat themselves on the back after witnessing the chaos erupting in the US and feeling pretty smug about being Canadian.
"There's a line-up of very sore and self-satisfied people outside my office that goes around the block," said Andrew Guck, a physio of twelve years. "Canadians saw the violence in Washington DC and immediately pulled their traps and deltoids in a reflexive rush to declare themselves not like them."
Guck added, "I haven't seen anything like this since… the 2016 election, every American police shooting, or the one time a Canadian team won an NBA championship, I guess."
In province after province, Canadians have pulled countless latissimus dorsi muscles trying to reach around their own musculature and give themselves a hearty pat on the back for not being American despite growing local inflammatory rhetoric like "Take Canada Back" or the Canadian roots of the "Proud Boys" movement. Canadian physiotherapists have coined the specific ailment as "The Northern Reach" or CCC (Canadian Complacency Condition).
"Watching the Capitol Security stand by and even take selfies with the oncoming rioters made me feel pretty good that something like that couldn't happen in my own country," said Smitty Terder, standing outside Sports Physio Waterloo and ignoring the RCMP's inaction in the recent Mi'kmaq lobster dispute.
Reports indicate that this is the first time many of these people have sought therapy of any kind whatsoever.