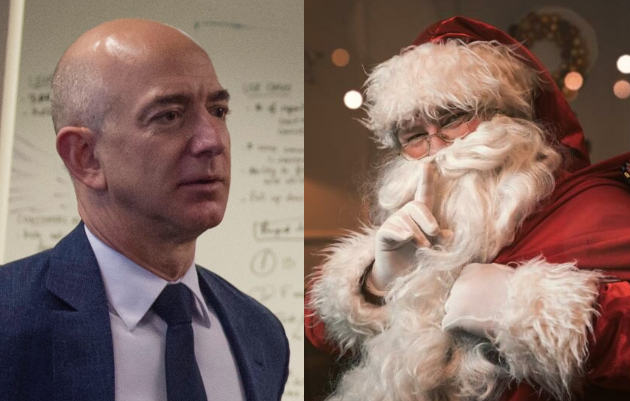 SEATTLE – On the heels of their most successful year yet, Amazon HQ was thrown into chaos this afternoon after CEO Jeff Bezos caught wind of a competitor potentially edging in on holiday profits.
Sources within the company reported hearing an anguished cry emanating from their president's office around 10:30 this morning, immediately followed by word that an emergency meeting of Amazon's board of directors had been called. One employee present (who requested anonymity for fear of reprisal) shared that Bezos was furious over reports of a man offering free overnight shipping on all products worldwide, only on December 24th.
Though Amazon is known for its quick turnaround times between order placement and fulfillment, it has yet to achieve the feat this entrepreneur – referred to only as "Mr. C" in internal Amazon documents obtained by this publication – is advertising. Bezos allegedly demanded that his team uncover how this mysterious figure obtained the infrastructure necessary to pull off such an impressive maneuver, and is considering hiring the Pinkertons to infiltrate Mr. C's operation and report back.
Multiple employees confirmed that the revelation cast a pall on what would have otherwise been a normal day at the office, with one saying, "[Bezos] was on a rampage. I watched him commandeer an entire fleet of Prime Air drones and send them tailspinning to a fiery demise."
A spokesperson for Amazon declined to make a statement when asked for comment, but the stories of eyewitnesses illustrate a clear picture of Bezos's frame of mind. Several confirmed overhearing him scream, "What, does he think he's some kind of saint?" at the frozen yogurt machine in the cafeteria at lunch.
At press time, Mr. C's enterprise had begun successfully poaching Amazon employees with offers of a living wage, health care benefits, and unlimited candy canes.