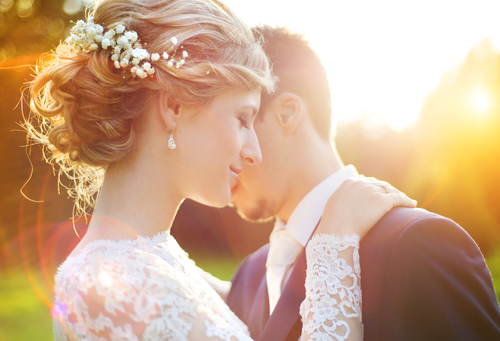 LONDON –  After 2 years of dating, local couple Lauren and Travis May celebrated their undying love for each other by tying the knot despite the fairly obvious and extremely large sign from God that maybe they should wait. 
"It wasn't easy to plan a wedding during these crazy times," confessed bride Lauren, referring to the ongoing coronavirus pandemic, widely known to be spread by close-contact activities like eating, drinking, and receiving lines.  "But God never gives you more than you can handle."
The wedding was originally planned for mid-March, but was cancelled when the province went into lockdown after reaching 59 new cases a day. Wanting to do everything they could to keep their guests safe except not have a wedding, the couple rescheduled to this past Saturday, when the province reported only a hair over 2000 new cases. During the intervening months, the couple found comfort in repeating the classic verse from Corinthians,  "Love is patient, love is kind" although their patience and kindness did not extend until September 2021, when the vaccine is expected to become widely available. 
"The morning of the ceremony, our pastor called — he'd tested positive. We're just so glad we found out beforehand, we could never put our guests at risk like that," said Lauren, willfully ignoring the banquet hall of a petri dish she created for 100 of her closest friends and oldest family members. "After all that we didn't even end up married, but we just have to trust that God's timing is the best timing and that it's all part of His plan."
At press time, the couple's photographer was frantically removing the hovering swarm of locusts that had mysteriously appeared in every photo.