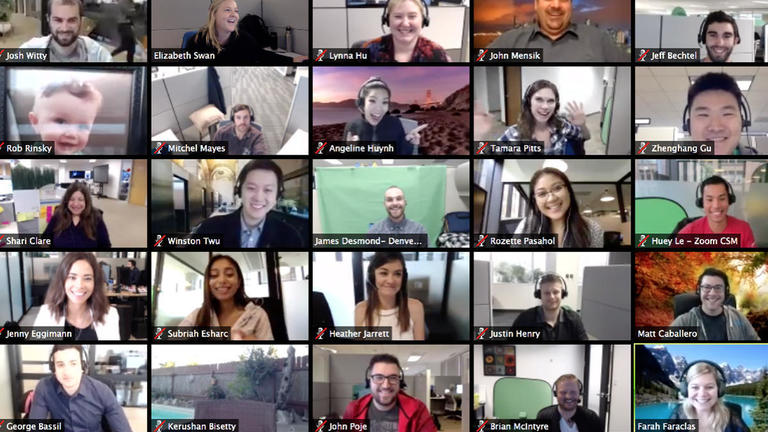 VANCOUVER – Local dad Keith Jacobs is reportedly dominating this year's Thanksgiving dinner-via-Zoom like a young comic who just booked the big spot at Radio City.
Taking advantage of video chat's limitation that only one person can speak at a time, Jacobs, 58, is entering the second hour of his "set" of jokes, stories, and awkward musical interludes with no signs of slowing down. Reviews so far have been mixed.
"We all logged in and said our hellos, then suddenly he "walks" their turkey into frame like a friggin' marionette and just has not let up since," said daughter and unwitting audience member Kylie Jacobs. "Every time someone tries to say anything he gets another notch louder. So eventually we all gave up, that was like 30 minutes ago."
"He started really strong with some classic dad zingers," said youngest son Cooper Jacobs. "But I think we all could have done without the extended bit on cancel culture and the 'PC Police.'"
"I thought he made some good points," said controversial aunt Caroline Jacobs-DuMaurier. "Everyone knows these SJWs just want to inject us with Bill Gates' poison so they can ruin our country."
"But he's such a cut-up, isn't he?" said Lorraine Jacobs, family matriarch. "And with everything happening, it's just so nice to see everyone and even though it's not quite the same and Kylie looks so tired… I'm sorry just getting a bit teary!"
There have been some concerns for Grandma Jacobs during the extended performance. "I hope she's okay with the language," said Cooper. "And I haven't really seen her move in about 20 minutes, so she's either asleep or the stream froze or…"
Davidson's best stuff is reportedly coming out of the back and forth with his sidekick and long time brother "Uncle Jack," though there were several technical problems that caused them to miss the punchlines on the "time we stole that canoe from camp" story. The two have promised to iron out any kinks before their upcoming show at Kylie's wedding next month.
At press time the family had set up a separate Google Hangout so they could discuss the best way to shut down the performance and also send someone to Grandma's to see if she's okay.