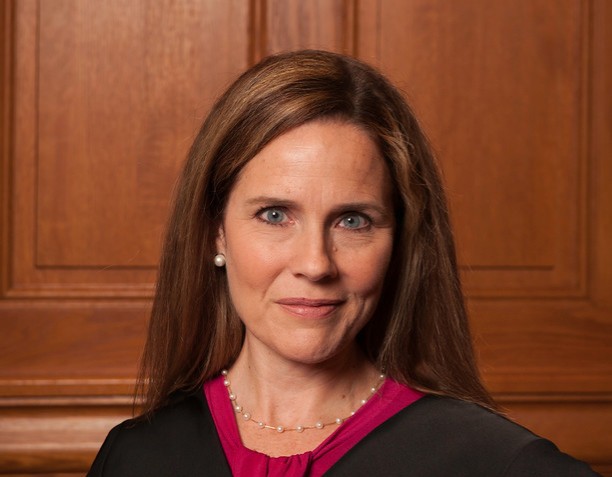 WASHINGTON – U.S. President Donald Trump nominated certified #girlboss Judge Amy Coney Barrett to the Supreme Court this afternoon, who, if confirmed, would not only become one of only three women currently on the bench, but the only one who thinks women aren't people! You go, girl!
Judge Barrett, a staunch religious conservative and member of the Christian organization People of Praise, would be replacing beloved champion of women's rights Justice Ruth Bader Ginsburg, a move that Republican white women across the country are calling "a relief" and "a welcome return to the 1950's!"
"I looked and I studied," an excited President Trump said to Barrett after naming her as his pick, "and you were the only woman I could find who has the same terrible, backwards views towards your kind that I have and who is also attractive enough for me to sleep with. I have zero doubt that after you are confirmed, you will do everything you can to help my administration drag women back to where they belong: on my lap."
Haha! Can you say #Gilead?
In her acceptance speech, Barrett assured Americans that she wouldn't let her religious beliefs get in the way of her rulings, unless they were at odds, in which case obviously God's will comes first because he's a man.
"I can't wait to use my position of extraordinary privilege to not only reverse decades of feminist progress in this country, but also to inspire little girls to believe that they can be whatever they want to be when they grow up, whether it's a housewife, a housewife with children, or a housewife with children and a fun hobby, like Bible transcription or calling the secret police to report their neighbors for UnChristian activities."
Wow! So many choices!
"Above all," she continued, "I promise to work as hard as I can to make sure that someone like me will never be able to be nominated for this position ever again."
At press time, Barrett had just announced that, if officially confirmed to the Supreme Court, she would be letting her husband make all the hard decisions for her.