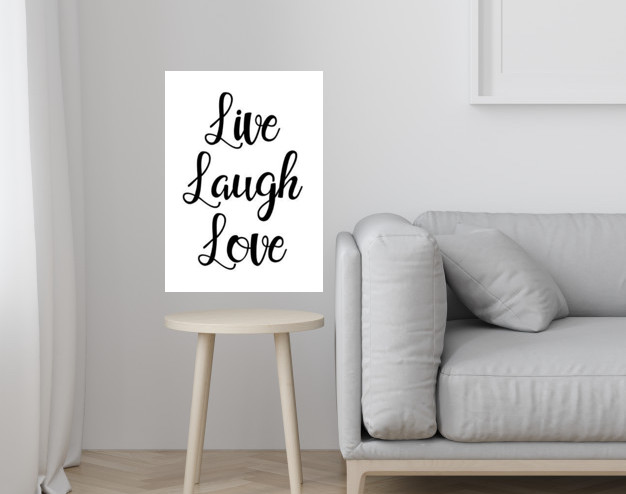 RIVERVIEW, NB  – As COVID-19 projections predict mandated self isolation to remain in effect for several more months, local resident Helen De Angelo has lowered her Live Laugh Love poster to half mast, in an act of solidarity.
"It just doesn't feel right, having it hang up there," said Helen, via Skype. "These aren't just three arbitrary words. They're principles – a way of life. So, it will remain lowered until we can live laugh love like how we used to."
In a zoom meeting, Helen's friends Val, Karen, and 'Shot-Gun' Liz – whose nickname derived from an ongoing joke where Liz would call shotgun whenever they took Helen's Subaru to all-you-can eat sushi – stood by as Helen lowered the plaque.
"It was pretty emotional," said Elizabeth 'Shot-gun' McMillian, who donned head to toe black Lululemons for the occasion."We paused the Tara Brach mindfulness CD so Val could play "Hit Me With Your Best Shot" on the bagpipes, as Helen slowly lowered the plaque and drilled a new hole into the drywall."
The ceremony reportedly ended with a reading from O, Magazine, followed by a moment of silence.
As a further show of respect, the four women have also turned their Dance Like Nobody's Watching Marilyn Monroe poster around to face the wall and flipped the reversible sequin over on their decorative pillows so that the embroidered 'Be Brave' was no longer showing. 
"Everyone is feeling it," affirmed Karen Goldmann, covering her monogrammed 'Do one thing a day that scares you' mirror with a cloth "And during these trying times, the last thing anyone needs is someone preaching about putting on a brave face. Especially with Grace and Frankie entering its final season…"
"It's not like anyone is coming over anytime soon, right?" lamented Valerie Abrams after moving her 'Paris is always a good idea' mugs into storage. "With travel bans in effect, I can't go to Paris. I can't even go to Reitmans…"
Nonetheless, the self proclaimed gal pals have collectively agreed to keep up 'Home is where the wine is', as a reminder to stay indoors during the pandemic and show self-care. 
At press time, all four of the women's husbands were found separately lowering their Goodfellas posters in mourning until live sports return to television once again.