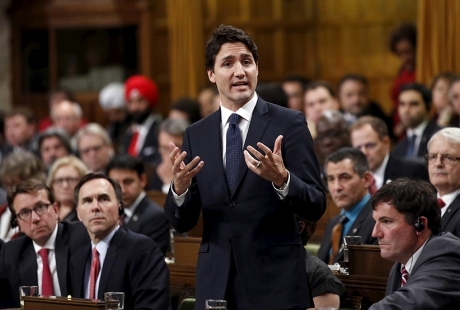 OTTAWA – Prime Minister Justin Trudeau has announced his new and larger cabinet, consisting of at least four ministers who are predicted to betray him by the next election.
Since the SNC-Lavalin scandal led to the resignation of Ministers Jody Wilson-Raybould and Jane Philpott, Trudeau has reportedly cracked down on the selection process, favouring those demonstrating unshakable loyalty, and a lack of conscience.
According to reports, the Prime Minister has asked ministers to sign a waiver indicating that they will "be chill" about any future "stuff" people might "be on his case about".
Trudeau made the announcement at Rideau Hall surrounded by his cabinet, as he wondered which of their smiling faces will accuse him of veiled threats the next time he feels like breaching some federal ethics rules.
The new cabinet includes a balance of ministers from different genders, races, and what party insiders referred to as "all the good provinces". When asked about the under-representation of "women whose names start with J", Trudeau, with the weary eyes of someone who has seen it all, responded "Because it's 2019".
Despite his concerns, Trudeau feels confident his cabinet will stand behind him on at least one issue: "They were surprisingly cool about the whole blackface thing, so at least there's that".