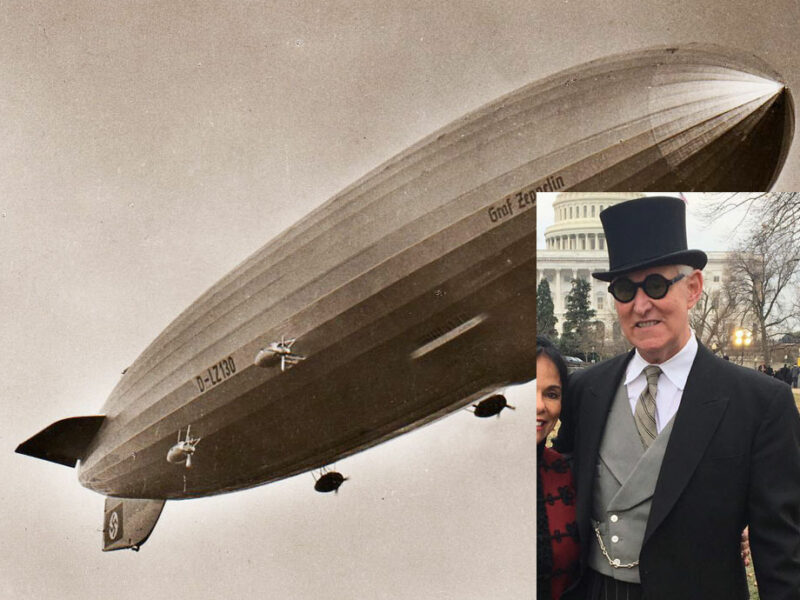 WASHINGTON D.C. — Trump political operative Roger Stone, after having been found guilty on seven counts, is reportedly quite anxious that his previously-arranged escape zeppelin has yet to spring him from Federal prison.
Stone, who was found guilty of lying to Congress, witness tampering, and obstruction of justice on behalf of President Trump, had allegedly planned all along to escape in flamboyant fashion via his preferred means of travel – a retrofitted 1915 steampunk dirigible balloon.
Political observers may recall that self-professed dirty trickster Stone has previously employed his zeppelin, the "Von Ratfucker", to escape from tricky legal situations as far back as the Watergate hearings. However, the rigid airship was noticeably absent earlier today as Stone was remanded to federal custody to await sentencing.
"You finks may think you've outsmarted Roger Stone, but I always have a final trick up… my sleeve," Stone shouted to assembled reporters, as he was removed from the courthouse. Stone then repeated, "UP my sleeve… UP! That was the cue!" before gazing skyward, noticeably sweating, while bailiffs ushered him into a waiting prison transport.
Stone has previously boasted about his political dirty tricks and schemes, all the while revelling in his penchant for zeppelins, top hats, ostentatious goggles, and other turn of the century paraphernalia. Few can forget a 2017 Fox News appearance where Stone teased his connections to Julian Assange of Wikileaks, all the while riding on a steam-powered copper velocipede while wearing no less than eight pocket watches.
Republican insiders offered no answers as to why Stone's previously-scheduled zeppelin failed to arrive and whisk him away from the federal authorities. Some speculated that costly legal fees have left him unable to keep up with his monthly hydrogen bills, while others mused that he may have left zeppelin arrangements in the hands of Rudy Giuliani.
At press time, Roger Stone is reportedly trying to gain social currency in prison by showing off his Richard Nixon back tattoo.