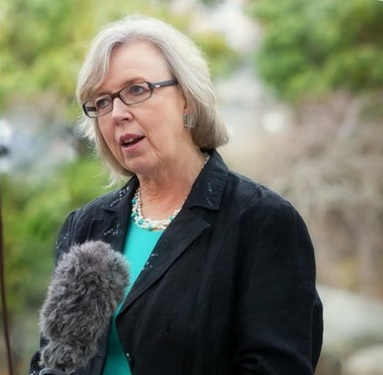 OTTAWA – Elizabeth May announced yesterday that she will be stepping down as Green Party leader effective immediately so she can finally sink her teeth into a rare t-bone steak.
May, who has been a leader since 2006 and the first elected Green MP in Canadian history, said that she couldn't take another day of eating tofu, veggie burgers, or bean salad.
"I'm resigning to spend more time with my family BBQs," said May at a press conference. "I have spent a decade hanging around vegans all day where my only options are kale, kale, and more kale…I just can't live my life like this anymore.
Flanked by her fellow Green MPs, May said she is proud of her accomplishments such as receiving over 1 million votes in the last election, pushing the government to act on the environment, and resisting the urge to consume animal flesh no matter how tempting it was.
"Sure, some people say it's better for the environment not to eat meat, but those people have never tasted the richness of foie gras, the sweetness of lobster tail, or the tenderness of honey glazed baby back ribs," said a hungry-looking May.
When asked what the first thing she was going to do now that she's no longer leader May said, "I'm going to go down to McDonald's and order two of the biggest, juiciest Big Macs. I'll buy carbon offsets, I don't care how much it costs me."
May will stay on as a Green MP and continue to serve her constituents once she's finished devouring a plate of extra hot chicken wings.