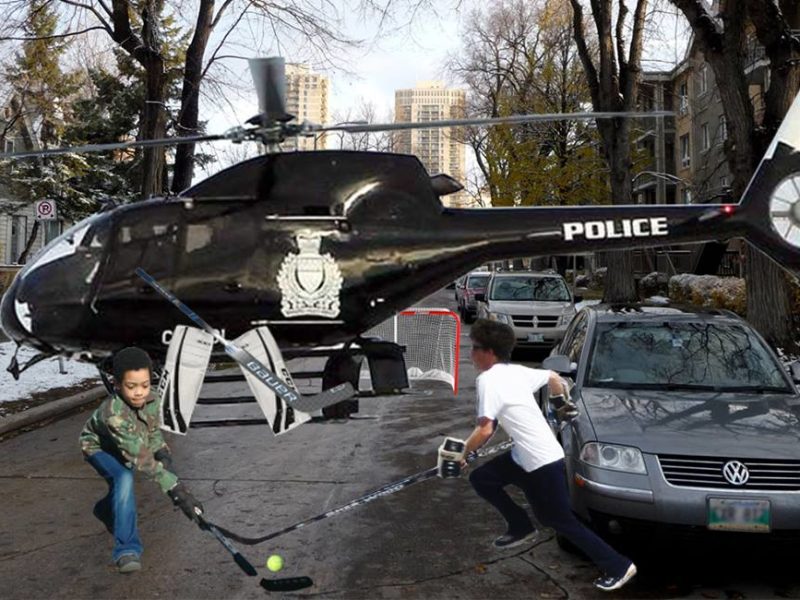 WINNIPEG – Taking time out of its busy day of pursuing suspects from above, the Winnipeg Police Services helicopter was down to earth playing road hockey with some youngsters in the North End earlier today.
The game of road hockey was spotted by Air-1's $560,000 infrared camera as the helicopter hovered at 1,000 ft determining there was no persons of interest playing the game.
Blasting off hats and cutting tree branches as it landed, the aircraft that prowls the city's night skies strapped on pads and played in net.
"You see, a piece of surveillance equipment that requires millions to operate each year can establish good community relations!" yelled local mother Hillary Smyth trying to be heard over the aircraft's engine.
Winnipeg Police say that the helicopter will also be trying to make an effort at improving its relationship with the community by flying very low to the ground in the Winnipeg Pride Parade and completing anti-racism training.
"While it may be good at fighting crime, it's a pretty lousy goaltender," joked Mike Bishop, age 9 who scored a hat-trick against the stealthy aircraft. "But its rotor shredded my stick when I went to celebrate."