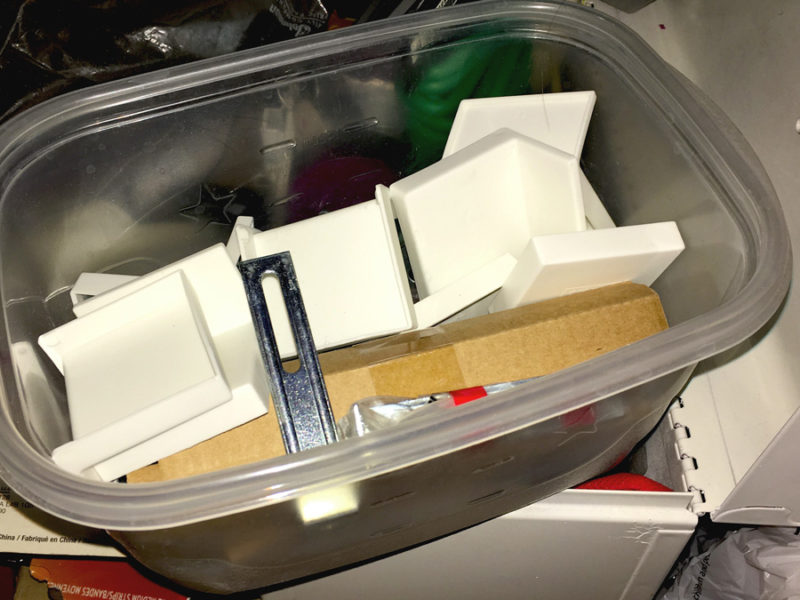 ETOBICOKE, ON – Not having a clue of what else to do with them,  a local man placed the baffling extra pieces that came with a recently purchased "BILLY" bookcase inside a large bin in the closet earlier today,  adding to the already substantial collection of other strange bits of wood, plastic and metal that have accrued from previous trips to IKEA.
"What are these even for?" asked junior accountant Alex Butianti, 27, of the screw and bent shaped object in his hand before tossing them in the box with the rest of the equally inexplicable extraneous home furnishing components. "They must have some purpose, right? Don't machines put these in here? What if the instructions are wrong? Oh God,  what if I'm wrong?"
Sources are reporting that the box containing all the errant assembly parts now weighs in at a sold 1.5kg, not including the separate bin exclusively for Allen keys. Even though he has discarded several pieces of IKEA furniture over the years,  that hasn't stopped Buitanti from packing up the box of misfit pieces two times while moving into new apartments, citing, "I don't know. Maybe I'll need one of these later?"
"What if this is their way of getting people to throw out garbage for them? Is that what want of me? To throw these out? Is that their purpose?" asked Butianti to himself, at a complete loss.
At press time, the recently purchase bookcase had fallen over after not being fixed to the wall with those little screws and pieces of plastic.