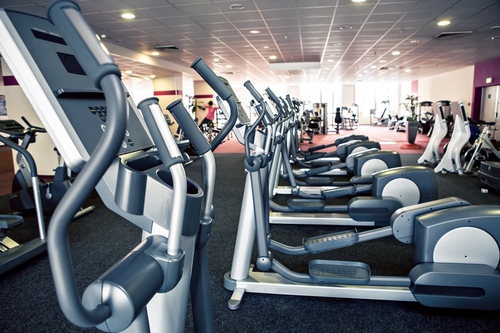 PORT ALBERNI, BC – Members of the Alberni Valley Community Center have been in a state of overwhelmed confusion by the hour delay of their gym TV closed captioning.
"We are trying our best to figure out how to fix this, however televisions are pretty complicated," said Mario Ditka, Zumba instructor and self-appointed equipment technician. "Turns out it's a great workout for the brain too! I needed a break from my sudoku group anyways!"
The lagging closed captions have caused confusion among the fitness inclined individuals. They initially thought Ellen and guest Millie Bobby Brown were suddenly interested in solving the cold case murder of 56 year old gangster George Graziano. It wasn't until they saw that Mandy Patinkin had developed an affinity for traffic patterns on the south side of Vancouver Island that they realized the captions were extremely delayed.
"Honestly, I'm kind of used to it now," said Jodie, a person who crushes 2.5 pound weights on the stationary bike. "There's something magical about seeing the Barefoot Contessa talk about fondant coupled with the imagery of Guy Fieri maoing down on some saucy BBQ."
The staff attempted to have the television noise play simultaneously with their designated "RADIO EDITZ 2004 GYM RAP BEAT$" Spotify playlist, but gym goers felt uncomfortable when "Jesus Walks" matched up a little too well with the mid afternoon televangelist programming.
After many attempts at fixing, rewiring, and praying to the TV gods at NBC, the community center decided that their efforts were futile. They have now started advertising the gym as a tourist spot where people can see Nathan Fillion's Castle talk about making over frumpy 30-somethings. Tickets for the first few screenings have sold out.