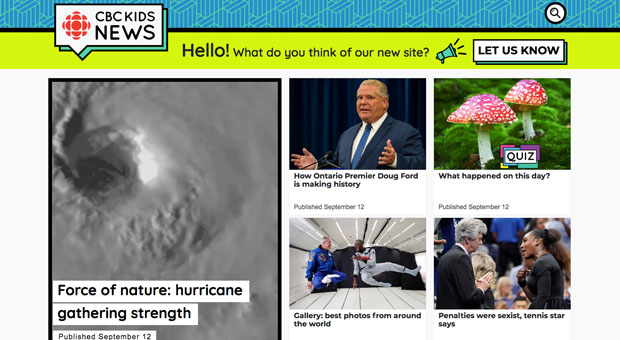 TORONTO – Targeting children between the ages of 9 to 13, CBC has launched Kids News in the hope that youngsters are robbed of any blissful ignorance by informing them of the happenings in the world around them.
"Our programming is intended to make children more jaded and cynical about the way things work, just like adults," CBC's general manager of programming Sally Catto. "This will be news for kids by kids to inform them that humanity has no real future with the leaders we have today. Plus, it's fun not to be so damned naive!"
Content will be selected based on making children snap out of the imaginary world of happiness and fill it with groans and sighs every time they read the news.
"If kids aren't stressed out, we're not doing our job," added Catto.
Inside the CBC Kids News newsroom, 12-year-old new editor Angie Paige was barking orders in a morning meeting with her youthful reporters.
"Hawkes, you're covering the doping scandal at The Little League World Series," Paige said pinching the candy cigarette from the side of her mouth. "Ali, how's that ATIP going on cuts to primary education? We need that fast so lean on that connection you have with that friend who have parents on the inside."
The editor often jokes about how the job has aged her considerably since starting it a few days ago.
"Asha, file your scrapes in the playground report by 3PM sharp," demanded Paige. "If the knee bleeds, it leads."
Paige then criticize her journalists for not following the Canadian Press style guide consistently and missing a big scoop on the amount of sugar in the new Slurpees, which their CTV competitors took.
"She's such a hard-ass now that's she's in grade 7," whispered a younger school beat reporter to his colleague.
"Just 55 years until retirement," remarked the colleague before taking a long sip on his juice box.
Meanwhile, CBC Kids News has already been accused of liberal bias for its coverage on how climate change affects ice cream truck industry.