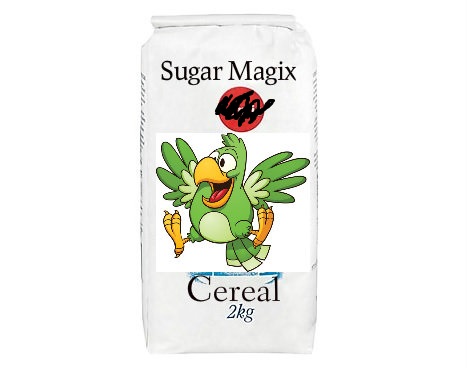 MISSISSAUGA, ON – Cereal designers at Kellogg's have shown that they're calling it in with its most recent children's breakfast cereal which is simply a bag of white sugar with a colourful cartoon character slapped onto the bag.
Checked-out executives approved the 100% sugar meal called 'Sugar Magix' which reaches the company's highest nutritional standard for children of nothing.
"We first thought that we were going with a deranged looking cartoon bird for a mascot or some kind of monster, but we went with the first thing we thought of because it was nearly 3:00 PM on a Friday," said marketing executive David Harper who isn't even trying anymore. "Yeah, kids are going to like it alright."
The corporation best known for insulin-spiking products like Frootloops, Krave, and Pop Tarts put little effort into their half-assed design, even failing to remove the sugar company's logo from the 2 kgs bag.
Placed at eye-level for the average five-year-old in grocery stores, analysts predict the item will make the company record profits while kids will gain record weights.