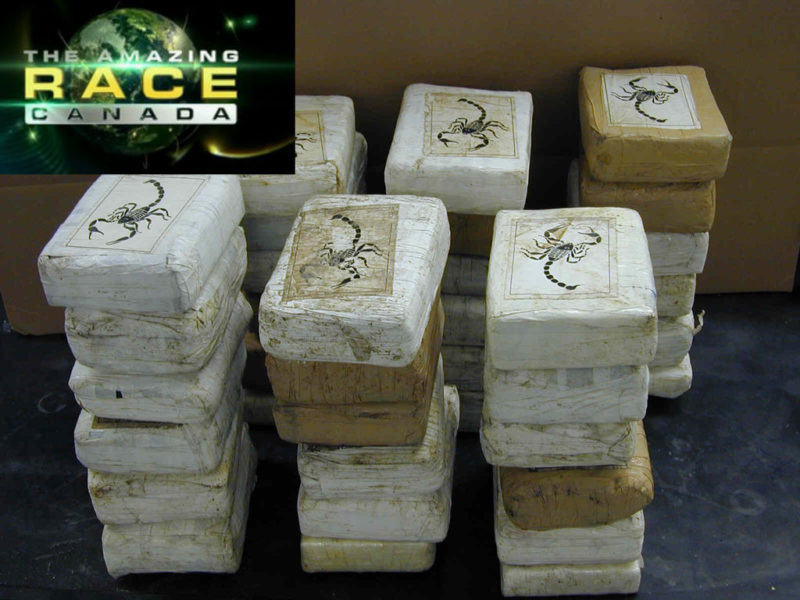 MEXICO CITY – Only four teams remain in one of Canada's most popular reality based game show after contestants were required to smuggle 10 kilos of cocaine out of Mexico and into Canada.
The first contestants to arrive at an abandoned shack in Sonoran desert, Alyssa and Mike, discovered that the only way to get to the finish line was transporting a hefty load pure, uncut Peruvian cocaine some 125 km across the US border by foot.
Apwinder and Claire were next to arrive to the storage house and attempted to fill as many water bottles as possible to survive their journey.
Despite the prospect of dehydration, death, and some personal tension between teammates, the chipper contestants didn't seem lose their enthusiasm.
"Let's do it!" said Cyndi to Amber after placing the packaged cocaine blocks into black plastic bags. The two friends from Regina high-fived after successfully strapping the cargo to their bodies with duct tape.
The race was close with only a few dozen kilometers separating some teams. Once arriving in the US, contestants were driven to a safehouse in Phoenix, Arizona where they would earn their next clue.
Mark and Aamir took a penalty after being caught by US border patrol, but may reappear on the show if they can make the $2 million bail.
Meanwhile, Alex and Jamie became lost in a cactus patch somewhere along the border and will be eliminated from the race once their bodies are located.
Next week on the show, conflict erupts between siblings from Ottawa, Suzanne and Adrienne, as they try to poach an elephant from a South African nature preserve.