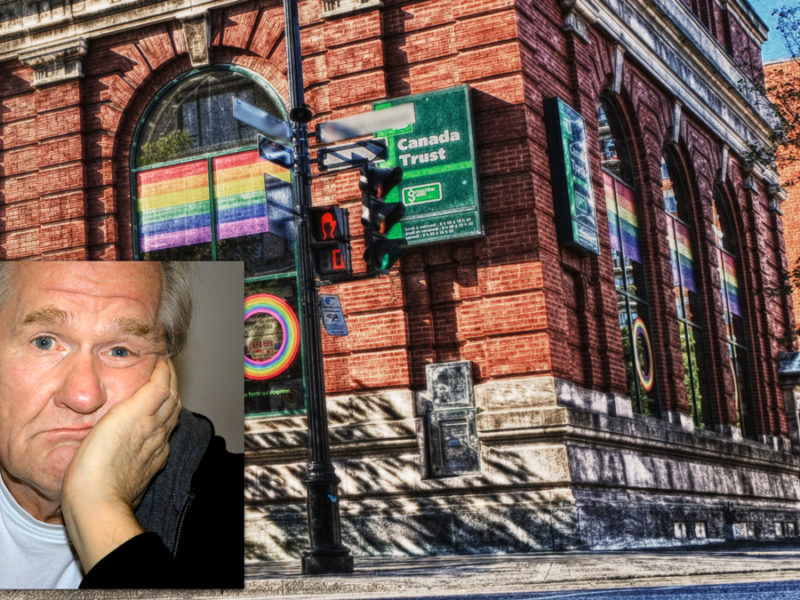 TORONTO – In the wake of Pride weekend celebrations, Canada's LGBTQ communities are entering the week with a renewed sense of solidarity and purpose. But the events of the weekend have also left one local father to grapple with a startling revelation: his bank of twenty years is gay.
"I guess I'm just trying to make sense of it," said father of three Chris Haskell, 48. "You hear about it, but you always think it's going to be somebody else's bank. TD? Sure, it always gave off that kind of vibe. Tangerine? Almost definitely. But my bank? It always seemed like the straightest bank. Now I just don't know what to think."
Like many banks, Haskell's bank has been a regular fixture at Pride events throughout the past month, after coming out suddenly in the last week of May. But it wasn't until Haskell spotted the bank at the Pride parade on a local news broadcast this weekend that he made the discovery.
"That's been the hardest thing to accept, that my bank didn't feel like it could tell me it was gay," laments Haskell. "I've always tried to be there for the bank, and sometimes I do wish we were closer than we are… but now I'm just thinking about things I've said or jokes I've made in the past, while at the bank, and good lord. If I was a homosexual bank I wouldn't have told me either."
While Haskell and the bank haven't spoken since the revelation, he hopes that when they do – which will probably be on Thursday or Friday once the after-work hours kick in – he can let the bank know that he still loves it.
"Look, it's not how I grew up. I'm from a different time and that's just not what banks were like," said Haskell, "But Christ, I saw my bank down at that parade, wearing its rainbow-themed rebranding, signing people up for credit cards… and it looked happy. Really happy. And that's all I want for my bank of course, but I don't know. Some selfish part of me still hopes that it's just a phase."
Image via Flickr/Pixabay