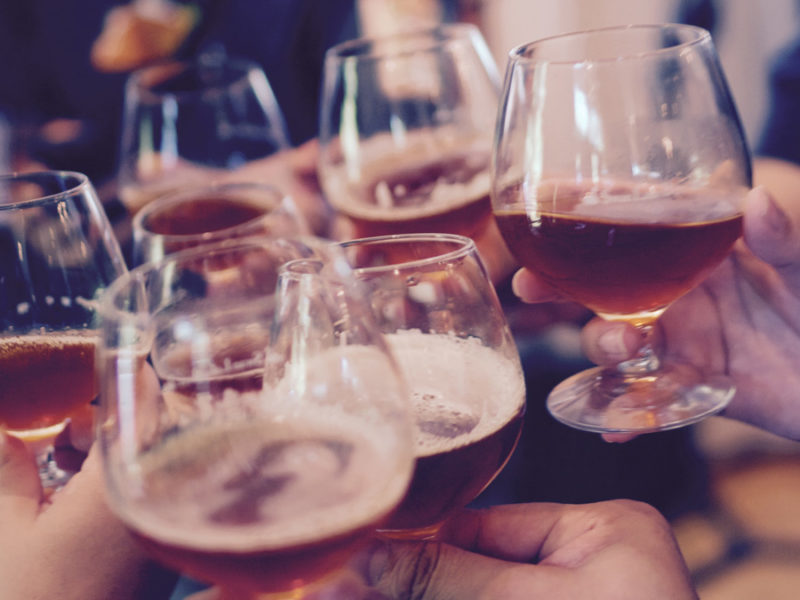 TORONTO – The warm summer air was alive with the sound of admiration this weekend as every patron on a local patio praised their choice of beverage with conspicuous enthusiasm.
"THIS SAISON IS SO REFRESHING," said one customer, projecting more than necessary, while nearby another exclaimed, "I DETECT NOTES OF CHERRY AND BLACK LICORICE," to anyone who would listen.
The Lesser Evil Pub is a popular destination in warm weather due to its large back patio and vast, rotating selection of beers. "In the lazy days of summer there's no better way to relax than by sitting on a patio confronted by 70 unfamiliar beer options," says bar manager Gavin Everett.
"I AM HAPPY WITH MY DECISION," shouted Michael Phan, struggling to gulp down a cinnamon porter while flipping through the bar's 24-page menu to select his next drink.
"MMM, HOPS!" said Laura Gould, sipping a can of Tonguepincher IPA while licking her lips demonstrably and fighting back tears.
"PAIRING MALTED OATS WITH THE ROBUST FLAVOURS OF MANGO AND LIME, BONTREES BREWERY'S 'BEACH BLANKET BONGO' CREAM ALE IS THE PERFECT BEVERAGE FOR WARM SUMMER NIGHTS AND COOL SUMMER PARTIES," said beer lover Justin Stuttgart, clearly reading his opinion directly off the label.
"I KNOW ENOUGH ABOUT BEER THAT I AM CERTAIN THIS IS HOW THIS IS SUPPOSED TO TASTE," declared a patron sitting alone, forcing a smile over a flat-looking pint of blueberry pilsner.
"I'M SO EXCITED I DON'T KNOW WHICH ONE TO TRY FIRST," said Cameryn Botts, photographing her tasting flight of five beers for Instagram. She then carefully hashtagged each brew represented in the flight, despite being unable to remember which was which.
The only quiet table on the patio was occupied by a couple who had both ordered a generic, big brewery beer, which is available year round at nearly any bar, restaurant, or liquor store and does not claim to taste like anything other than beer. They did not appear to feel any need to justify their beer choice conversationally.
Nonetheless, Everett insists response to the beer menu has been overwhelmingly, desperately positive, and suggests the bar may soon expand its selection. "Everyone knows more choices means more happiness, especially when it's choice for choice's sake."
When asked which brew is his personal favourite, Everett stood on a table and shouted "THEY'RE ALL SO GOOD I CAN'T PICK JUST ONE."
Image via Pixabay