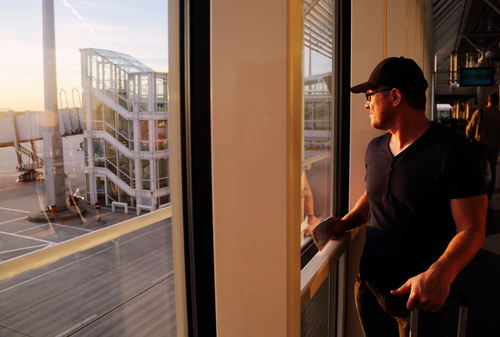 DALLAS – After almost a decade of service and thousands of flights Air Marshal Dereck Jakes is hoping this latest flight will be the one where he finally gets to become a hero by shooting a terrorist in the head with his SIG Sauer P229.
"It's so boring sitting on flights all day, not reading, not watching movies, not shooting anyone" reported Jakes. "When 9/11 happened my first thought was: will I get to shoot someone on a plane? But I guess terrorists aren't really 'into' planes these days."
"It's a damn shame to see Dereck so disillusioned" stated Jakes supervisor Kim Tran. "When he first started he was one of our most enthusiastic recruits, always asking how many people we had shot and hiding guns everywhere. I don't think he took his finger off the trigger for his first year of flying."
Jakes reported that he has became tired of flying between Raleigh, NC to St Louis, MO dozens of a time a week, especially since the air hosts have started ignoring his requests for a hot towel.
"What do you mean he's never shot anyone?" asked fellow passenger Katie Briggs. "If my hard earned tax dollars are paying his wage he better not just being sitting there doing nothing. He should have to bring in the bodies of disruptive passengers to get paid."
"I feel silly for all the years I spent practicing the catch phrase I would say. I haven't once had the opportunity to quip 'look likes someone's going to miss their connection'." said Jakes before excitedly reaching for his gun after one passenger got up to use the washroom particularly quickly.
At press time, Jakes was excited when a person with a gun was reported on the plane, before learning that it was him.