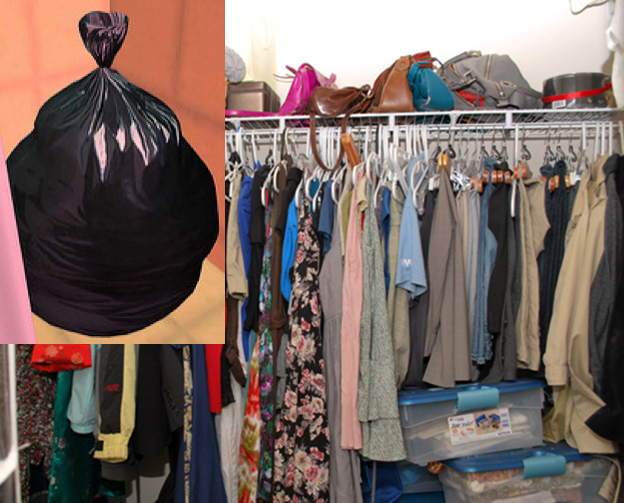 Who likes cleaning? Idiots, that's who. So this spring-cleaning season be smart and try this amazing time saving hack! Just follow these 5 simple steps.
Step 1 – Spend 15 minutes (25 tops) going through your house looking for all those amazing products you've accumulated over the winter. These could be books, clothes, or exercise equipment you received from loved ones, or items you purchased on amazon at four in the morning like an inflatable flamingo. That was such a great find!
Step 2 – Once you've gathered all these items just toss everything into a black garbage bag for safe keeping. It's much better to hold on to these things than to give them away or throw them out. Because if you did that, you're basically saying that it's junk. No! This stuff is important, you may need that broken kettle again. Maybe you could turn it into a planter for a flower? Oh, that's a great idea! But that's a job for 'Future You'. 'Future You' will be good and clean and will live forever!
Step 3 – Answer the door. You have received another Amazon package! Don't worry about opening it, just add it to the garbage bag. That's right, stuff it in there good. Isn't this fun!
Step 4 – Now take that lumpy black mass and jam it into your closet. Don't forget to close the door tight. It's now safely hidden away, a secret that only you will know. And if anyone finds out what you did, you'll lie and say you don't know where that bag came from. And if that doesn't work, you'll do whatever it takes to make sure no one ever finds out truth.
Step 5 – Now kick back and relax in your clean and now uncomfortably empty home. That was so fast and easy! Why don't you use your free time to do some online shopping. Maybe a new pair of sunglasses? And a matching set for your cat! Anything to help you forget that you have a bag, as dark as your soul, shoved haphazardly in your closet.
Spring cleaning is the best!