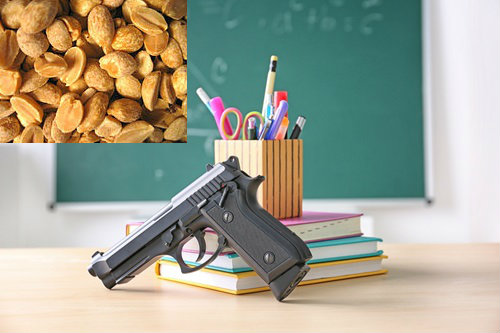 EL PASO, TX — A high school teacher in Texas who was participating in a pilot program that armed teachers with guns to ensure school safety has been arrested for bringing in a gun that contained peanut fragments.
In a statement, history teacher Alexandra Teffer explained that she must have accidentally spread peanut butter on her gun during breakfast.
"I can't believe I transported this potentially lethal substance into our school on an everyday item like a gun," said a distraught Teffer.
While no student was harmed since none of the pupils had a nut allergy, the school was placed on lockdown.
"Someone's constitutional right to own and eat nuts is not more important than the lives of our children," said one parent about the teacher's wanton negligence.
U.S. Secretary of Education Betsy DeVos commented on the incident.
"We cannot have these dangerous weapons in our schools. Especially when they're contaminating a wholesome part of American life like gun ownership. Schools must be peanut-free zones."
DeVos also announced plans to outfit schools with peanut scanners, peanut-sniffing dogs and educational programs to reduce peanut-related violence.
"I am certain this is the biggest issue facing schools today," said DeVos who recently admitted she has not visited any underperforming schools during her tenure.
When asked if she thought a similar zero tolerance policy should be taken for guns, DeVos replied "I've never heard of a child being allergic to a gun before."