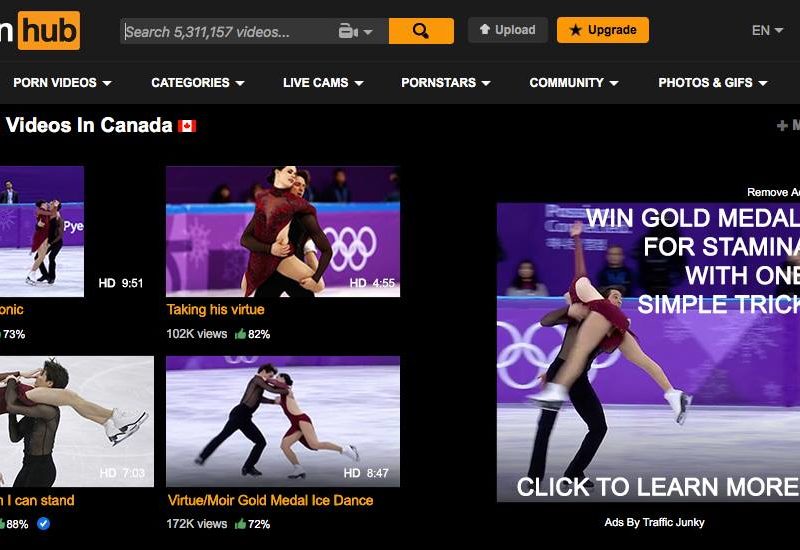 MONTREAL – After their technically perfect and perfectly erotic short and long dance programs led them to another ice dance gold medal, Canada's Virtue and Moir are currently dominating the entire home page of popular porn website pornhub.com.
"At first we were going to remove all the clips because of copyright infringement and the fact that an ice dance routine does not meet our usual sucking and fucking standards," said Pornhub spokesperson Carolyn Chen. "But when we saw their routines and the way they looked at each other, we got it."
"That move where she climbs up him and sits on his face might actually be the dirtiest thing we've ever posted," she added.
The videos, which appear under titles such as 'hot brunette gets totally flipped around' 'Flexible Canadian amateurs can do things you WON'T believe' and 'NSFW: True Love' have collectively been viewed over 4 million times in a little under 12 hours.
They have been such a success that the company is reportedly planning to launch an entire 'Olympics' category featuring ice dancing, double luge and a web cam in the well known fuck palace that is the Olympic Village.
"I know Virtue and Moir are going to get a lot of endorsement offers in the next few weeks. But if they wanted to consider making an on ice sex tape I can guarantee they'd be rich for the rest of their lives," said V.P. of Operations Corey Price.
For their part Tessa and Scott said they were flattered by the attention, but denied there is anything romantic going between them. They then hugged while whispering to each other for approximately twenty five minutes.