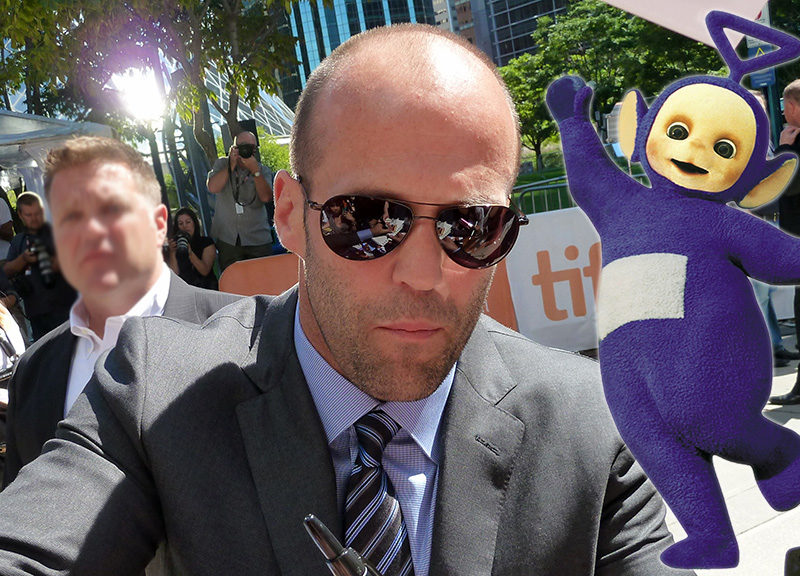 LOS ANGELES – Miramax has recently announced that action star Jason Statham has landed the coveted role of Tinky Winky in the upcoming live-action reboot of beloved British children's show Teletubbies. Statham joins an already star studded cast including the likes of Charlize Theron (Laa-Laa), Will Smith (Dipsy), Angelina Jolie (Po), and Bryan Cranston (Baby in the Sun).
The film is scheduled for release two summers from now and will focus on a darker retelling of the Teletubbies origin story. The Teletubbies are the result of a failed government super soldier experiment which has left four military personnel as deformed and discoloured mechanoid mutants seeking revenge in a post-Apocalyptic future, much like the show. Now, using an array of cyber-kinetic enhancements, and their screened bellies to spy on their enemies, the Teletubbies look to put an end to the corrupt experimentation facility which has cost them their humanity.
"Teletubbies has been a very complex and dark show right from the start," explains Statham who has reportedly been watching reruns of the original program to study his character. "I'm excited that I'm finally getting an opportunity to play a gay character."
This reboot and silver screen adaptation is the newest instalment of a growing trend of gritty remakes found in nostalgia, following on the footsteps of Power Rangers, Ninja Turtles, and Riverdale, the Teletubbies remake hopes to raise the bar for reimagining classic children's programs with an R-rating and reported 200 million dollar budget.
"Many of the children who grew up watching Teletubbies are now adults ready to see their heroes take on a more complex story that tackles issues such as the lack of privacy in a post-Snowden reality," stated producer Jake Cooper. "While our target audience may appear to be the Teletubbies loyal enthusiasts, we are confident that this retelling of the Tubby story could draw in millions of new fans to the franchise."
"After you watch it you'll be saying, 'Again! Again!'"
With filming set to begin next month, director Michael Bay has stated that while he won't reveal what cameos or easter eggs await the fans, he will say to keep an eye out for a very hot sex scene that may or may not involve everyone's favourite wide eyed vacuum.
Images via Flickr/DHX