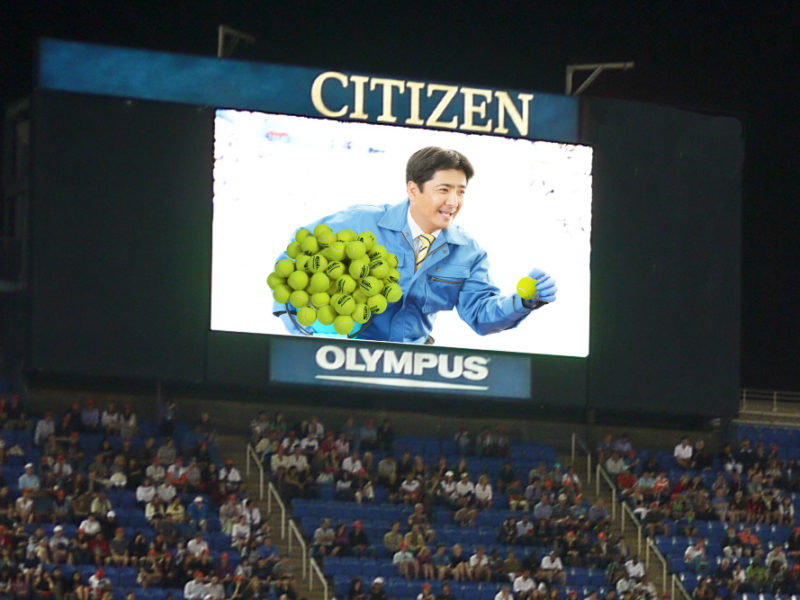 NEW YORK CITY – Marking the start of the US Open, tens of thousands gathered outside the USTA Billie Jean King National Tennis Center Sunday evening to witness the ceremonial janitor throwing down stranded tennis balls that have accumulated on the rooftop over the last year.
"It's like our Olympic Torch," said five-time champion Roger Federer. "It's like no matter how often you errantly hit a ball onto the roof, no matter how many mistakes you make in life… someone will always be there watching over you to make sure you have what it takes to keep playing."
"And last year, I almost got four of them!" he added.
With matches starting Monday, the US Open is the fourth and final Grand Slam tennis event of the competitive season, and it was the first to include the ritualistic lone janitor walking across the roof, throwing dozens of reclaimed tennis balls. The tradition dates back to 1992, when the championship had to be halted after an enraged John McEnroe – protesting his fourth round elimination – hit all three tennis balls that were brought to the stadium onto the roof, forcing cleaning staff to go up and throw some balls down.
Crowds comprised of fans and professionals alike gathered hours before, trying to position themselves to be one of the lucky ones to catch a ball tossed down from the rooftop, this year from honoured 30-year veteran janitorial staff member, and legend in the sport cleaning teams, Paul Xi-Luong.
"Serena [Williams] may have more championship titles than me, but when it comes to catching the most tennis balls, I beat her every year," said a smirking Venus Williams. "This year she only got two. I only got two too, but I also got this frisbee that got stuck up there! It's red!"
The tennis opening ceremony has been compared to FIFA's World Cup opener, where, for 60 years now, the previous winning team will have to climb the next door neighbour's fence to get the soccer ball back so everyone can start the tournament.