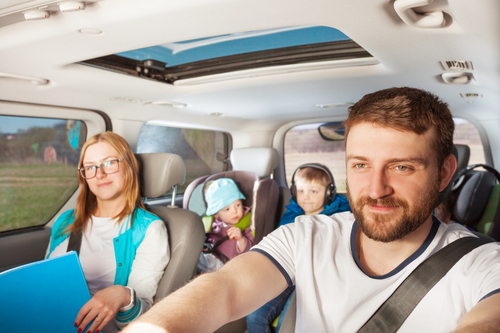 OAKVILLE – This morning Chet Billingsley, a local father of three, organized his family into a 5:30 a.m. departure from their home in order to avoid cottage country traffic. As a result of this successful departure time, sources indicate that Billingsley experienced one of the most intense and prolonged moments of arousal in his entire life.
"As soon as he saw that everyone was in the car, packed and ready to go before the sun had even come up, he immediately started breathing heavily and sweating," said Janice Billingsley, Chet's wife, "the moaning began the moment we merged onto the highway 15 minutes later and saw all lanes were completely clear."
Studies have shown that the biggest erogenous zone for fathers is the concept of not sitting in traffic. This sensation is closely interrelated in dad-minds with being able to leave early enough to make it to the airport with time to spare and fishing before dawn – or what sexual psychologists refer to as "gush events".
"I don't even think he likes actually being at the cottage that much since he always complains about bugs and noisy motorboats. But I never see him more excited than when he thinks we're beating other travellers to cottage country", said Peter Billingsley, eldest son of Chet.
"At one point, we had to pull over to use the Webers restroom so dad could change his pants," Peter continued.
Witnesses report that Billingsley could be seen to sensually bite his lower lip as soon as he passed Barrie, Ontario and was pinching his own nipple when the car passed Orillia in under an hour. While all occupants of the vehicle agree that the family patriarch screamed "I'm gonna pop!" as soon as he flicked cruise control on, knowing he wouldn't have to slow down, memories were inconsistent as to whether or not he inserted the word "goddamn" into the exclamation.
"At one point I thought he was finished but then he asked me to whisper to him about what good time he was making and it all started again," Janice remarked.
"Did any of your old boyfriends get you up to the cottage this fast?!" Chet yelled as he finally pulled his car into the driveway of their vacation home.
Upon reaching the family cottage, Billingsley was observed to curl up and take a nap in the driver's seat, naked except for a thin blanket draped across his genitals. After seeking to pass a lit cigarette around to the car's occupants, he remarked that he would be good to go again as soon as the family was ready to leave and head back home.