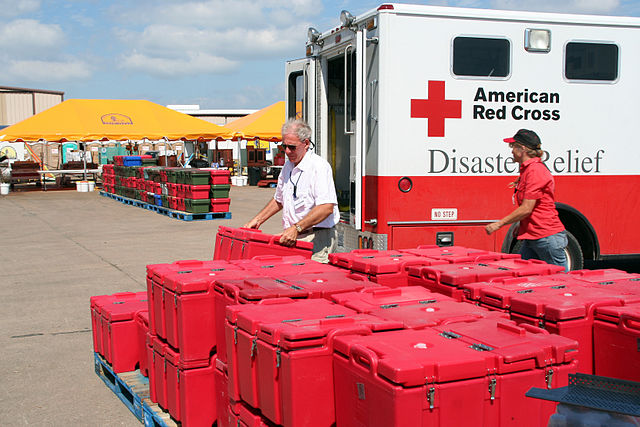 HOUSTON – The Houston chapter of the American Red Cross has issued a desperate plea for thoughts and prayers as Hurricane Harvey inundates southern Texas with record rainfall and devastating floods.
Though recently downgraded to a Tropical Storm, Harvey continues to pulverize the fourth largest city in America, expected to bring more than 50 inches of rain to the area by the end of the week.  
"It's the sheer size of the storm that's the problem," said Charles D. Bares, Director of the US Department of Thoughts, Prayers, and Meaningless Platitudes (DTPMP), during an appearance on the Weather Channel. "In natural disaster scenarios, one thought covers about three square blocks, and a prayer is worth just over a square mile. Also the prayers wear off and need to be regularly re-applied, like a moral sunscreen."
The most destructive storm in Texas history, the Category 4 hurricane made landfall on Friday, a typically slow day for reflection as people are tired from thinking all week and are saving up their prayers for Sunday. Complicating the emergency is the fact that Americans use more thoughts and prayers on man-made tragedies than on acts of God, which, by definition, seem to be His will in the first place.
With the MLB playoffs around the corner and Christmas only months away, America's prayer supply is projected to reach record lows this fall, which will seriously hamper recovery efforts in the region.
"The DTPMP is considering a temporary ban on outside-the-box thinking and Tom Brady-related prayers so the full force of America's thought-and-prayer arsenal can be directed at Harvey," said Bares. "We've already suspended the Top 3 requests appearing in UCLA's National Thought and Prayer Tracker: fewer nazis, more nazis, and eclipses you can watch without a box."
The White House is considering drastic measures if the demand is not satisfied soon. At risk of angering his base, President Donald J. Trump has allowed a set number of carefully screened international thoughts and prayers into America, even though they are worth only 3/5ths the value of American thoughts and prayers.
"Mooslim prayers making water deeper," Trump tweeted early Wednesday morning. "Pathetic. We need more US prayers. Where's the Catholics with their rosemarys? #Hyuston."   
Trump is otherwise distancing himself from the shortage, not wanting to remind people that he made his fortune hoarding thoughts and prayers to drive up prices before dumping them on the market for a tidy profit.
Meanwhile, Texas is preparing for the worst. If they are unable to ensure a steady supply of thoughts and prayers to the Houston area, Harvey could grow into the largest storm America has ever thought about and prayed at.