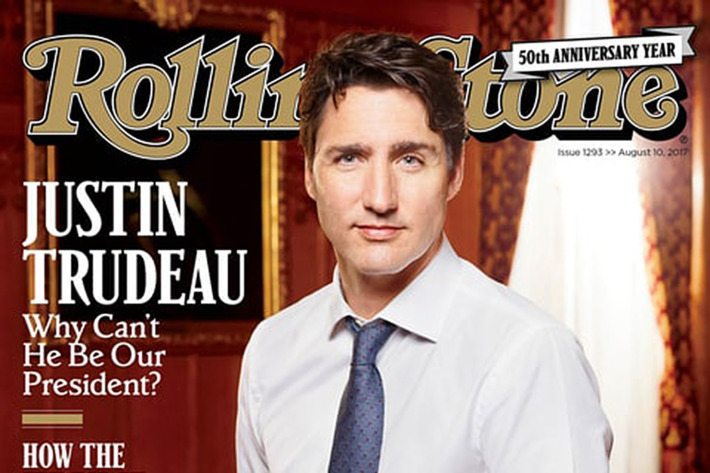 NEW YORK – Prime Minister Justin Trudeau has made the cover of Rolling Stone's August issue in his latest attempt to appeal to his most supportive constituents; American liberals who don't know any better.
The music and culture magazine's feature-length interview on the centrist political opportunist managed to ask the tough questions like "how does it feel to be the free world's best hope for a progressive future," and "when will you announce your candidacy for the Democratic primaries?"
"As Canada's leader it is vital that I regularly interact with Americans who are so angry about Trump that they fail to look past my photogenic smile to see my many failures and broken promises," Trudeau explains in the article.
The piece sheds light on how Trudeau overcame tragedy and circumstance to rise to the same seat of power as his father. It's the kind of inspirational riches-to-riches story that really pulls on the heartstrings of American voters.
Of course, it wasn't all doom and gloom. The article did leave room for Trudeau to dish on the Top 50 Indefinite Detention Cases of All Time, and how his favourite true-crime drama is unfolding in his borders as we speak. It also examines his heroic efforts in solving the Indigenous health crisis by offering those communities access to 10 free articles a month to the New York Times and Washington Post. These are the kind of tactfully empty gesture Americans have forgotten even exist in the era of President Trump.
While the article has been ravenously consumed in coastal elitist enclaves, Rolling Stone's reporting on Trudeau has not been received without controversy. Many accuse the front cover editor of photoshopping Trudeau's environmental record.
Meanwhile, reports have indicated that a jealous Andrew Scheer has tried to arrange a photo-spread in next month's issue of Tiger Beat, but could only secure the September cover of Weird Ceramic Dolls Monthly.