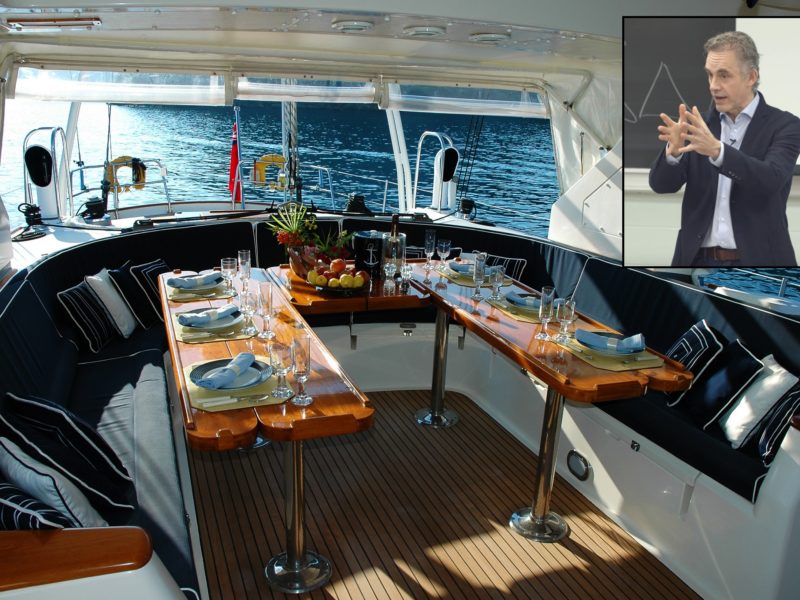 TORONTO – This week controversial University of Toronto professor Jordan Peterson assured supporters that their Patreon donations will be used in his continuing crusade against political correctness, and has unrelatedly placed the down payment on a 40-foot yacht.
"It's been humbling to see so much support from honest, working-class people," said Peterson while sipping from a glass of 2007 Louis Roederer on the deck of the newly christened Monta in Banco.
Peterson, who currently receives approximately $38,500 in monthly donations (which does not include ticket sales for his lectures), says that he plans produce original lectures, create a Q&A series, publish letters he has received, and that he will find a good use for the other 95% of the money as well.
"Most importantly, this money makes me less vulnerable to pressure from left-leaning bureaucrats at the University," added Peterson, a tenured professor who, through his words, risks receiving even more non-disciplinary letters of warning than the two he already has. "Also, have you tried the freshly caught marlin? Divine."
While many students and staff at universities around the country believe that Peterson has encouraged bigotry and incited even greater discrimination against trans and Muslim students, a great deal of conservatives and libertarians without a cause to throw their money at see him as a luminary.
"I used to get so mad when people asked that I use their proper pronoun, I just didn't know what to do," said UofT student Ethan Scott, 20. "Professor Peterson's videos taught me how to fight back against such fascist requests, and if he believes that filming them on a pristine new yacht will increase the quality then who am I to question it?"
"Besides, if he gets to $40,000 a month he says he'll start advocating for eugenics!"
At press time, Peterson has revised his incentives package for people donating $100 or more to include a one-time one-on-one skype conversation where you can watch him smoke a $100 bill.