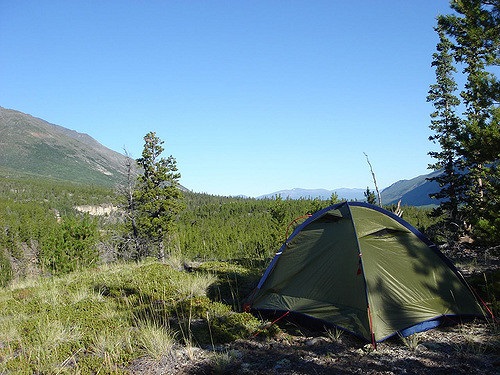 WHITEHORSE – A Whitehorse family has inadvertently driven 3,700 km across most of the Yukon last weekend searching for a single, vacant campsite without success.
Joseph Chambers, his partner Rebecca and two small children began their odyssey last Thursday afternoon when they pulled out of their Riverdale home and headed south towards Lucky Lake campground near Watson Lake.
"We left at 5 AM, but by the time we arrived, the campground was already full," explained Chambers. "Backtracking down the Alaskan Highway, we still found nothing; camper after camper, tent after tent."
The Chambers family continued their trek westward past their home in Whitehorse and towards Kluane National Park in the hopes of scoring even the tiniest, unattractive plot of space.
One individual claimed all 20 spots at Dezadeash Lake Campground by placing a piece of firewood in front of the parking space initially disappointing the four, but ultimately strengthening their resolve to find one somewhere else.
"We'll find one soon," said a hysterical and sleep deprived Rebecca Chambers to her children.
Afterwards, they tried Carmacks, Pelly Crossing, and Keno City, but no luck. The family even offered $1,000 to buy a spot from any other camper at Yukon River Campground near Dawson City, but all refused their offer.
"Someone glued their lawn chairs to the ground at Tombstone [Territorial Park], so we couldn't take their space," lamented Chambers. "Someone else left their newborn baby, so we couldn't take that either."
Even the side of the Dempster Highway was jam-packed with enthusiastic campers for miles.
At press time, the family had lit their camper on fire and was spotted in a canoe floating down the Yukon River towards the East Siberian Sea to see if Russia had any open spots.