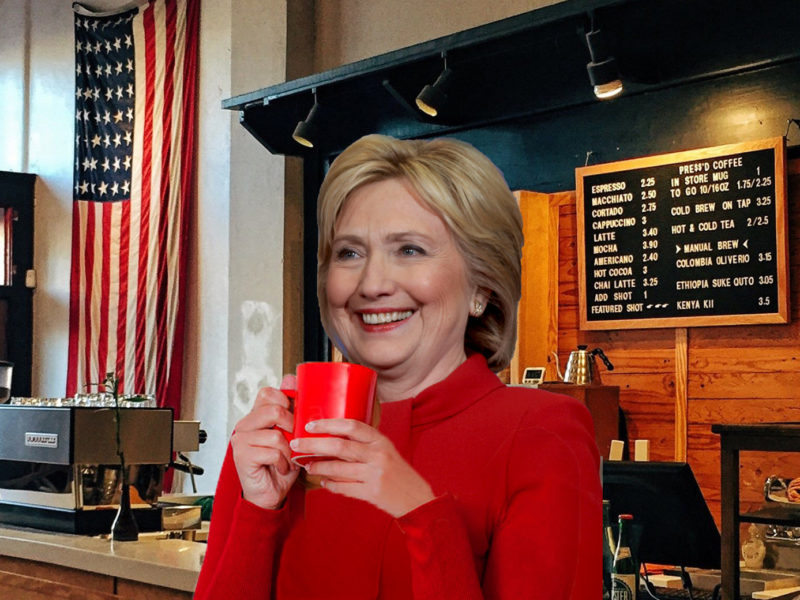 WASHINGTON, D.C. – According to sources, Hillary Clinton reportedly came off well during a chance encounter with the United States of America in the cafe they used to frequent together.
It was the first time the former Secretary of State has been seen in public without America since the two unexpectedly split despite persistent rumours that they were ready to take their relationship to the next level. It was also the first time she has been seen in the cafe – which despite always mixing up their orders, was conveniently located halfway between each of their apartments – since the stunning November breakup.
Witnesses report the former First Lady noticed America only after it was too late to exit unnoticed, but with enough time to mentally prepare a spontaneous sounding, cheerful greeting. Throughout the short conversation that followed, Clinton reportedly managed to maintain a mannequin-like smile that successfully masked her true feelings of confusion and rejection.
Clinton was heard to gracefully allude to her rumoured relationship with the New York mayoralty race without seeming desperate, adding, "but we're just having fun, keeping it caj," employing the casual short form of the word "casual" to appear more casual.
She was then said to falter only in her attempt to inquire about America's new partner. Leaning against the counter in an overcompensating pose of indifference, she was heard to ask, "And how is D-… how are you?".
Clinton then listened with a heroically fixed smile as she accidentally stirred tabasco sauce into her latte and clenched her teeth like a bear trap to prevent the words, "We could have had something real, but no!" from bursting out of her mouth.
Instead, Clinton recovered by feigning interest in America's current projects. "How's that thing you were working on?" she asked, successfully masking the fact that hours of late night Facebook creeping had already told her everything she wanted to know. "What was it again? A podcast – ? Oh, right, the wall thing. How's that going?"
Clinton concluded the interaction by touching America gently on the arm and saying, with a masterful combination of sincerity and condescension, "I just hope you're happy." She then walked out of the cafe without looking back, cleverly using the reflection in the window to confirm that America watched her all the way to the door.
A short statement from Clinton's office later claimed, "Hilary continues to seek personal time to reflect on her former relationship with the nation."
No word yet on what America was thinking.