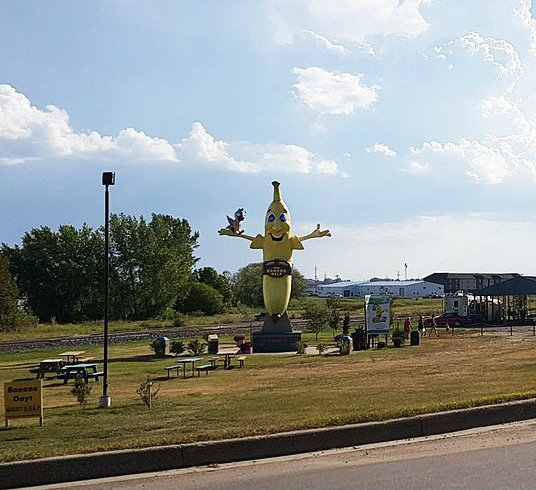 MELITA, MB – Adding to a mounting number of complaints against CBC's historical docu-drama, the Manitoba town of Melita has criticized 'Canada: A Story of Us' for ignoring the history behind the world's tallest freestanding banana.
After confirming that the story of the 30 foot roadside attraction would not be mentioned in the 10 part miniseries, Mayor Bill Holden demanded an apology and a correction so that the giant anthropomorphized tropical fruit and the bird that sits in its hand receives a mention.
"The producers completely ignored the story of our people's banana, which dates back to 2010," explained Holden at a press conference. "The legend of the banana is very sacred to some of the people here."
Local historians agree that the show failed in many aspects since the town of 1,100 was the first in the world to have a large banana as a tourist attraction, an engineering and artistic feat rivaled by no other country in the planet.
"It was a first for Canada, and for the world," explained local historian Arthur Croquette. "And for little justification other than being in a climate area known as a 'banana belt.'"
The banana's construction was also contentious, which split the town between those that thought the metal and hard plastic structure best symbolized Melita, and those that thought $106,000 could be spent on something better.
"'Canada: A Story of Us' is written with a clear anti-roadside attraction bias," added Croquette.
CBC has since responded to the numerous complaints by adding 10,000 more episodes that will be shown over the next 150 years so that everyone's version of Canadian history is told.