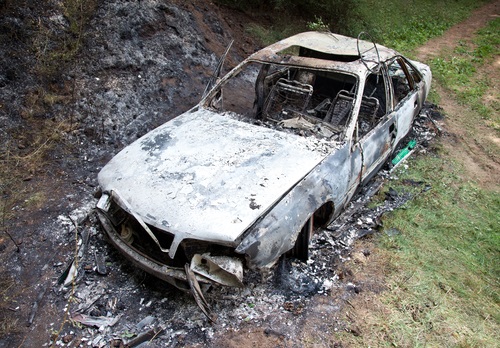 COBOURG, ON – Northumberland Ontario Provincial Police are looking for leads after a charred 2015 Ford Bandwagon full of Blue Jays paraphernalia was found outside of Cobourg near the 401.
"The vehicle looks to have been intentionally set on fire, but there were some items that survived," said Sergeant Mark Byers.
Police say they have recovered singed Blue Jays gear including jerseys, hats, Captain Canada t-shirts, Jose Bautista Bat Flip 8x10s, "Honk for Jose" bumper stickers, and dozens of stuffed parrots.
"It was still moving a few days ago with the last remaining passengers probably abandoning it for another vehicle."
A number of receipts for Toronto Raptors and Maple Leafs merchandise were also found in the vehicle.
While the police could not confirm, it is believed the vehicle may be headed to Montreal.
OPP say incidents like these are eerily similar to what occurred in the Spring of 1994 when dozens of abandoned Blue Jays bandwagons were discovered across the country.