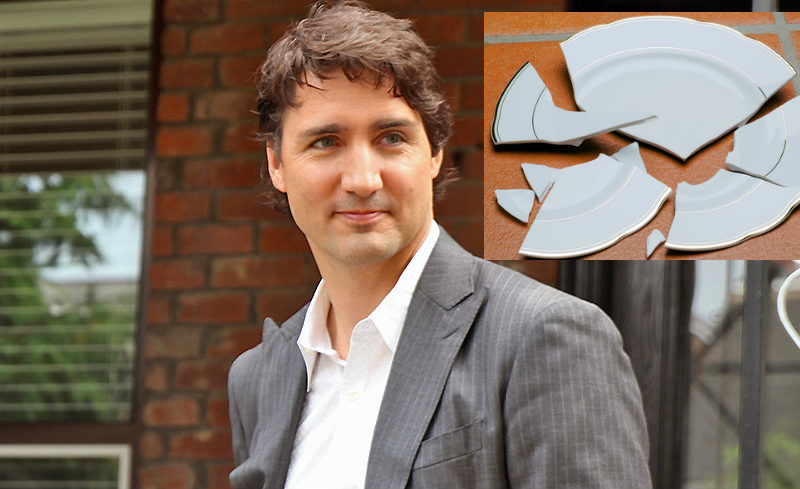 OTTAWA – Insisting their party was not a fundraising event and simply a conventional gathering of like-minded citizens, the federal Liberals are defending their second annual "Plate-Smash-a-Thon," where guests must pay $1550 per plate to attend.
"This is not cash for access, it's harmless fun," said Liberal Party President Anna Gainey. "This ceramic smashing celebration is open to all Canadians and international business interests. The $1550 is there to cover overhead costs. It's not an exchange for the chance to shatter dinnerware with the Prime Minister and his cabinet."
While critics argue with that assessment, calling it blatant fundraising as the plate price happens to be exactly the legally allowable donation limit, party attendees defend the Liberal's stance.
"At no point did we discuss our planned pipeline expansion," said Kinder Morgan CEO Steven J. Kean. "All that happened was me and Minister of Natural Resources Jim Carr smashed 50 plates together with baseball bats. So fun!"
"It was so pleasing to see the Prime Minister of Canada so worry free," said Benson Wong, chair of the Chinese Business Chamber of Canada. "It was the opposite of political. I asked Justin Trudeau to do his famous party trick and he threw my 12 plates down a flight of stairs and tumbled down after them! He's the life of the party!"
Conservative interim leader Rona Ambrose scolded the Liberals, saying they should do what their party does and focus on "smashing many small plates from the grassroots level."
Next week the Liberals have another event slated in Ottawa, a silent auction bidding for a tax deductible receipt of up to $1550.