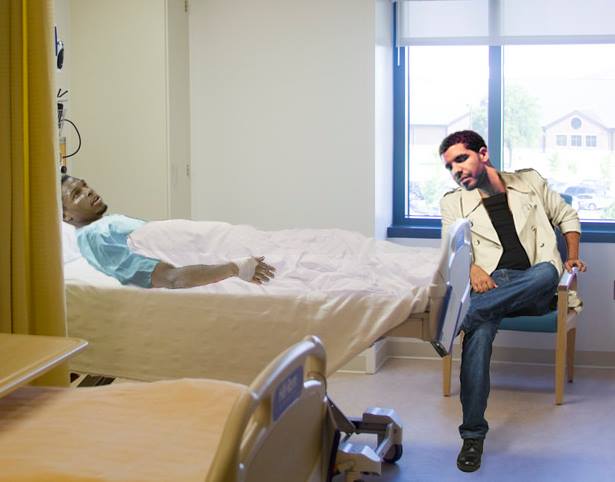 TORONTO – Recovering from surgery to clean out loose bodies from his right wrist, Raptors point guard Kyle Lowry woke up to find hip hop superstar Drake asleep in the hospital room chair, where he must have been all night.
"Aubrey? Aubrey is that you," said a groggy Lowry as he struggled to open his eyes. "I didn't think you'd come. It's been so long since you came to a game."
Drake then popped awake himself and sat down on the edge of Lowry's hospital bed.
"Of course I came man. I ran out of a foam party in Miami just to be here with you."
Lowry hasn't always appreciated Drake's diehard Raptors fandom, finding it a bit "too intense" and refusing Drake's invitation to hang out in Forest Hill "whenever." Sources inside Drake's camp have suggested that is the reason Drake has been present less often at Raptors games this year. That and the fact that he recently bought a yacht he keeps in the south of France.
But previous tensions appear to have been forgotten now in the wake of Lowry's injury, which could have a devastating impact on the Raptors' playoff run.
"I know I said a lot of things," began Kyle before Drake interrupted him with a smile.
"That's all in the past my friend. What matters now is the future."
At press time Drake was drawing up plans for a "Rocky" style training montage for him and Lowry to do together before the first round of the playoffs.