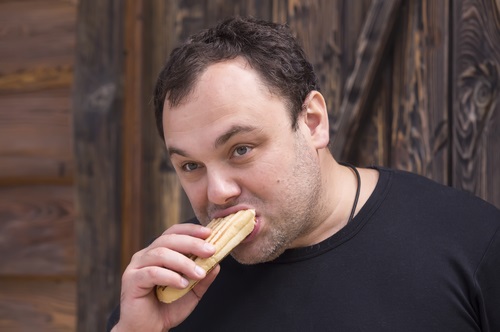 SCHREIBER, ON – Before Canadians finish their dinners at 6:47 PM ET tonight, Canada's competitive hotdog eater Darrell Rigby will have already consumed 58 hotdogs, one more than the annual Canadian average.
Rigby, who ate a whopping 7,018 hotdogs last year, is the highest consuming footlong eater in the country. That's 121 times more than what an average worker scarfs down per annum.
In its report, the Canadian Centre for the Study of Wealthy Eating says that the hotdog gap between Rigby and the rest of Canada continues to grow every year.
"In 2005, champion hotdog eaters only ate 75 times more hotdogs than non-champion hotdog eaters," explained Adriane Nicholson, the lead researcher in the study. "However, Rigby is managing to squeeze more and more into his esophagus. That type of hotdog consumption is excessive."
While average Canadians struggle to consume anywhere from 50-60 hotdogs a year, elites like Rigby coast along, effortlessly inhaling tube steak after tube steak with seeming indifference to the plights of others.
"It takes me a full month to go through a Costco-sized bag of delicious 75% Beef Franks between my whole family. It's tough but we make it last," reported Suzanne Fulsom of Kitchener, Ontario. "But then we hear about people like Rigby who don't even realize what it's like not to be able to ram 34 hot dogs down your gullet in a single sitting. Can't the government do something about this?"
When asked for comment, Rigby pointed out that he only consumes as much as he does in order to protect Canadian hotdogs from a recent influx of foreign digestment, mostly from Asian competitive eaters.