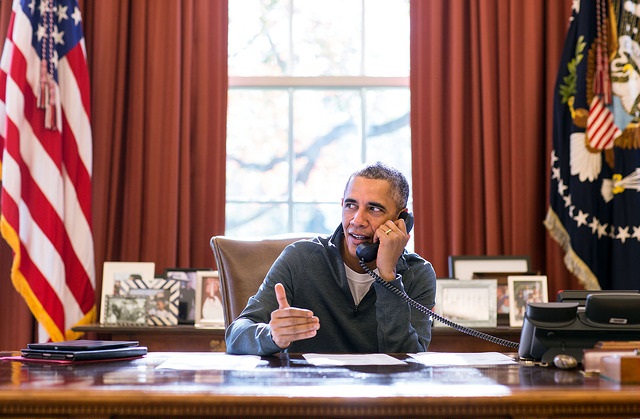 WASHINGTON, D.C. – With less than two weeks left in the White House, U.S. President Barack Obama was surprised to discover Congress would not be returning the $650 security deposit he gave them when he moved into the residence eight years ago.
As the government body responsible for managing America's cash flow, Congress has the power to withhold any Treasury payments they deem wasteful, ranging from excessive hotel mini-bar charges to healthcare payments that would have been squandered saving the lives of millions of Americans. Rarely, however, have they frozen a sum this small.
"I couldn't believe it," said Mr. Obama to the White House Press Corps. "When I went outside to get the newspaper this morning, I was hoping to find my deposit check in the mailbox. Instead I got this bullshit taped to the door," he complained, waving a terse landlord notice in the air. "I was going to use that money to pay the movers. What am I supposed to do now?"
Congress withheld repayment from the Department of the Interior, the agency responsible for managing the property, citing a number of violations to the lease, including property damage.
"We see this sometimes from people who have pets and kids," said Speaker of the House Paul Ryan on his way to deliver an eviction notice to the Environmental Protection Agency. "He should have spent less time trying to guarantee education for the next generation of Americans and more time getting the wet dog smell out of the drapes." Or as Ryan later summed it up in a tweet, "Less degrees, more Febreze!"
In a speech to the United Nations, Mr. Obama disputed the charges. "Over eight years you're going to have a lot of normal wear and tear, especially in high-traffic areas like the Terrorism Counteraction Command Center and near the bathrooms," he stated to the assembled representatives of 193 countries. "And that motor oil spill on the Oval Office carpet was there when I moved in. They should be talking to the previous occupant about that."
"I don't want to be that guy," continued Mr. Obama, who had relocated from Chicago in 2008 for a promising new career. "But I think they've always had it in for us. We rented the place just based on the photos, so there was this comic misunderstanding when Congress met us and we showed up black."
"Mr. Obama was simply a bad tenant," Congress hastily responded via a post in their Whatsapp group chat. "He ran up the phone bill with international calls, visitors would come and go all hours of the night, and the police seemed to be following him every time he pulled into the driveway."
"Fortunately we've already rented the property to a nice family from New York," Ryan added. "So we just want to forget the last eight years. Maybe we'll sell the place to some billionaire so we no longer have to take responsibility for what happens there. That would be alt right with us."