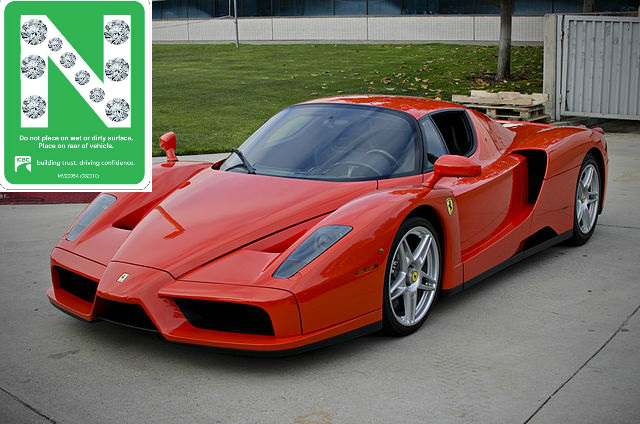 VANCOUVER – Vancouver's Ferrari dealership has launched a luxury "New Driver" decal upgrade option. The premium sticker caters to the teenage offspring of ultra-rich parents who are for some reason receiving quarter-million dollar supercars as their first vehicle.
Vancouver Ferrari Sales Manager Crispin Culverhampton says the exclusive enhanced decal – which adds $38,488 to the base price of any vehicle, includes a diamond-encrusted border with platinum offsets, as well as an individually numbered certificate of authenticity from De Beers. The diamonds are affixed with a special adhesive to ensure they can withstand the high speeds of teenage street-racing.
Culverhampton reports that the upgrade has proven very popular since its launch two weeks ago. "Our customers live an elite lifestyle. The standard government-issued decal simply doesn't reflect their values."
Culverhampton confirmed that several older customers with decades of driving experience have also chosen to add the premium decal to their vehicles for purely aesthetic reasons. "Given their popularity with the younger demographic, it was almost inevitable that this phenomenon would spread to our broader customer base" he said. Vancouver Ferrari revealed that additional premium sticker sets are now in development, including a $50,000 sapphire "R" (for "Rich") and a $99,999 black opal "U" (for "Ultra") will be available to existing customers in limited quantities later this year.
At press time, a group of homeless people living in cardboard boxes on the laneway outside of Gastown's trendy Pidgin Restaurant were being relocated by event staff to create a larger valet parking space for the dealership's official sticker release launch party. One area local who goes only by "Roy" said "I don't really know what's going on here but I'm sure it's pretty important or they wouldn't be making me move my house."