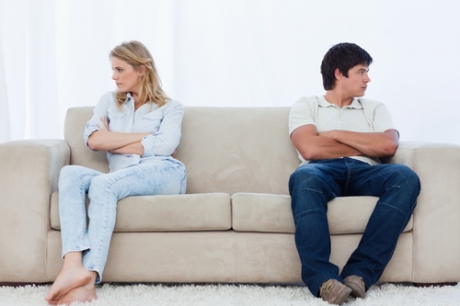 HAMILTON – A recent argument between Ted and Susan Jameson over whether the golden age of television has indeed come to a close has led to concerns that their marriage may be in jeopardy.
"Sure, Mad Men and Breaking Bad may be over but you've got so many worthy successors that only an idiot would say that it's over and done with," Susan Jameson ranted privately to her sister Wednesday, "I mean Ted watches Better Call Saul and Fargo, how the hell can just ignore what's in front of his face!?"
"We haven't had a fight like this since Season 2 of The Wire," Susan added.
The argument began when Ted Jameson off-handedly remarked that there was nothing good on television anymore.
"We were so lucky to have lived through it. But I think it's time to face facts, that era is over and we're now back to the dregs we had in the 90's," Ted argued forcefully, "I mean, for every House of Cards out there now, there are like 20 Big Bang Theories!"
"When we were dating it was all Sopranos and Arrested Development but once the honeymoon phase of 24, Battlestar Galactica, and Deadwood faded and the kids came along we just started going through the motions," Susan confirmed, "I kept begging him to simply sit down with me and a marriage counsellor to talk about how Boardwalk Empire was an underrated gem but he had clearly already made up his mind."
The fight reached its peak during a recent five-hour dispute over whether Game of Thrones is premium television or just an overblown soap-opera. Neighbours report that the argument finally ended with Susan screaming "Divorce is Coming!" and storming out to sleep at her mother's packing only a toothbrush and the box set of Justified. Each party has apparently contacted a lawyer to ask about separation procedures and to see what their general feeling was about The Good Wife.
"I mean come on! Shows like The Walking Dead just ride on the coattails of real television. It's masquerading as good TV just because it has high production values," Ted elaborated, "I love Susan but I think it's clear that we just can't make this work anymore."
"I'm not sure I can even be in the same room as him anymore!" Susan cried to her co-worker Mary, "Last week he went out of his way to mention that he thought the Golden Age ended when the finale of Lost proved to be a huge letdown. Everyone knows that episode may have been controversial but has tons of supporters! He's intentionally provoking me!"
Despite their differences, however, both Susan and Ted appeared willing to agree that comedy is going through just a great period right now.
Image from Deposit Photos.