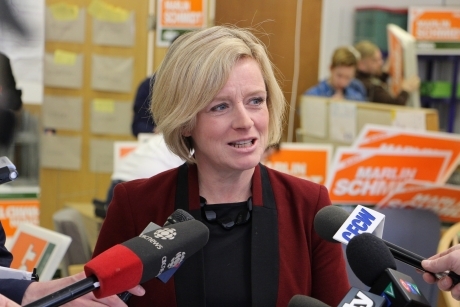 EDMONTON – After days of dodging important questions from Rebel Media and uncles' Facebook pages alike, Alberta premier Rachel Notley came clean today and admitted that she intentionally created the fire that has caused the evacuation of the entire city of Fort McMurray.
"It is time to confess my sins," said an emotional Notley at a press conference announcing the news. "Not only did I ignore the wildfire as it spread, not only did I divert resources from firefighters in order to house Syrian refugees and fund gay weddings, I actually travelled in secret to an area outside Fort McMurray and started a fire using gasoline and a flame thrower."
"I even charged the cost of the gasoline to the taxpayer, proving your conservative friends right yet again," she added.
Notley went on to acknowledge that she did what she did because she hates the oilsands, the people who work there, and the people of Alberta as a whole.
"Let me be clear. It is the NDP government's policy to do everything it can to impoverish, endanger, and outright murder each and every person in this godforsaken province. That Wild Rose supporter you knew in highschool has been right about us all along."
The announcement coincided with a list of future actions Notley would take unless stopped, which include closing the West Edmonton Mall and shutting down the Calgary stampede so the bulls could live on a vegan-run co-op farm where they will help schoolchildren learn to speak Arabic.
Despite their success, the province's social media deputies were not ready to rest on their laurels, as they were already hot on the trail of Notley's suspected accomplice: Prime Minister Justin Trudeau.