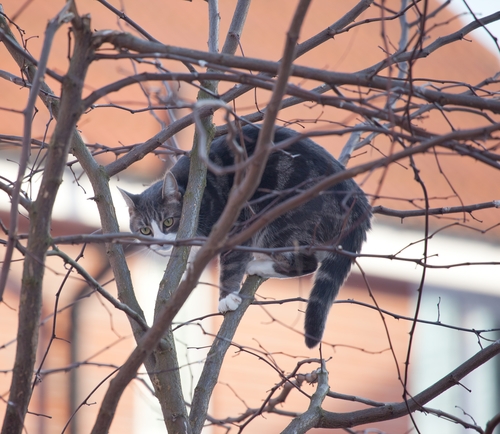 REGINA — Election results for the 2016 Saskatchewan election have been interrupted with a late-breaking story of a feline in a tree.
CBC, CTV, Global and other news channels immediately cut reports from a live speech being made by NDP leader Cam Broten to the corner of Elphinstone Street at 5th Avenue where the incident was unfolding.The media is unsure of how long the grey and white cat has been in the tree, who it belonged to or whether it is able to come down, but were grateful for the opportunity to pull viewers back in with something invigorating.
Unlike the insignificant, completely uneventful speeches on the economy, price of wheat or education, the cat managed to inspire citizens with its dogged determination to hang on to every branch while suspended 25 feet in the air.
"Many of those who have recently lost their jobs in Saskatchewan have been touched with the message this cat is sending," reported CBC's Leisha Grebinski. "Just hang on and never give up hope."
Eyewitnesses reported spotting Liberal Party leader Darrin Lamoureux at the scene, staring up in awe at the plucky pet. According to one source, Lamoureux stated he was "rooting for the li'l guy" and hoped everyone else was too.
The Saskatoon Starphoenix immediately released an editorial criticizing pet owners who let their cats outdoors, which galvanized more public debate than the past three elections.
Election officials halted the vote count after the cat made a death-defying leap from one branch to another making many distracted vote counters gasp.
"I hope he makes it out okay," said a teary-eyed Premier Brad Wall who was accompanied with hundreds of Saskatchewan Party supporters hooked to CTV's round-the-clock coverage on the event.
This is not the first time election has been interrupted for a more newsworthy story. Last year, all coverage on the PEI vote came to a halt after a farmer had discovered a really big potato.