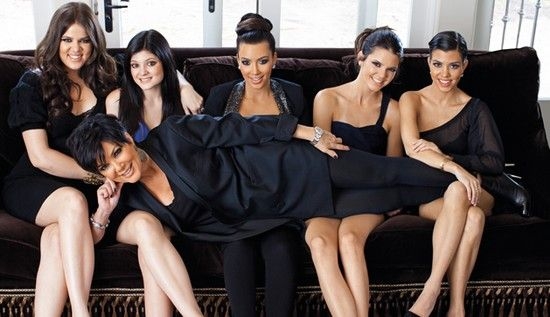 LOS ANGELES – Scientists working out of the National Centre for Celebrity Research have recently announced the successful creation of another Kardashian sibling. The newest member of the brood, a female, is apparently resting comfortably in her hyperchamber as she prepares for a formal unveiling to the public.
"Everything went as smoothly as we could have hoped," enthused Dr. Kurt Maplethorpe, lead scientist on Project K, "after 64 weeks of molecular gestation, the subject emerged from the spawning chamber alive, well, and ready to take her place as a member of the closest thing America has to royalty."
Klumm Kardashian, as the newest Kardashian child has been designated, sports the same dark hair and olive complexion as her siblings and has been engineered to have a biological age of 22 to ensure maximum public interest. Indeed, nude photos of Klumm covered in a slick grease of membranes and proto-placenta immediately following her breeding have already been leaked to the press by her media handlers. The photos, intentionally crafted to "break the internet", are already outpacing similar, provocatively slimy photos by elder Kardashian, Kim.
Early reports state that the DNA used to manufacture Klumm was derived from a melange of genetic material provided by Kris Jenner many years ago and stored in the long-rumoured Legacy Vault in the arctic. The exact location of the Legacy Vault is a tightly kept secret in order to ensure many more years of quasi-celebrity progeny.
"Klumm……. happy……. doctor help Klumm…… learn," the newly formed media darling effused during a brief, exclusive interview with E!, "Klumm want ……… eat apple. Klumm say…….. buy new fragrance Klenty of Klumm in Sephora now."
"Kim… proud… Kim… banana… special… cross-media promotions," agreed big sister Kim.
Klumm is already being courted by reality TV producers. Kultivating Klumm, a program that follows Klumm as she tries to balance love and a fashion career, while also trying to learn shapes, colours, and basic human language, has been ordered to series.
"We're very proud of the result, especially after our previous failures at adding to the Kardashian swarm," Dr. Maplethorpe said as he gestured to several oozing medical bags bearing the names "Kestra", "Kunk", and "Trudy", "but those non-viable organisms will be used to feed and strengthen Klumm in the next vital weeks."
Klumm's medical team expects that her epidermal layer will soon slough off sufficiently to allow for increasingly prolonged time outside of the dendroplasmic tubes which have been her home for the past weeks. Once her gastric sacs wither and become husks, Klumm is expected to be camera-ready and prepared to take Zayn Malik – formerly of One Direction – as a mate.
"With this recent success, we'll soon be moving on to brewing up a new Jenner child," Dr. Maplethorpe stated proudly, "we've already got the polyps fermenting and the celebro-meter predicts that this one will be really outrageous!"
Skump Jenner is expected to hatch Fall 2016.