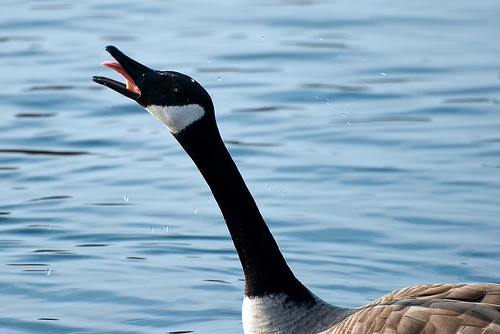 OTTAWA – In what is being hailed as a victory for diversity, Prime Minister Justin Trudeau has dropped several hints in the last week that the nation's next head of state may well be a human-sized Canada Goose.
"I have a feeling that I may well be explaining my choice by saying 'because it's 2017,'" said Trudeau, when asked who he was considering for the office. 'It's important that we have a Governor General who looks like Canada does."
Trudeau then winked at the audience, before hissing like a goose and flapping his arms.
"Of course, David Johnston has done excellent work as Governor General, and it's been important to have an academic fill the post," said Maryam Monsef, Minister for Democratic Institutions. "But it's long past time that such an important demographic in this country have a representative in its highest office."
Since Trudeau's statement, speculation about the appointment has been buzzing, with candidates like the giant goose that hangs around and attacks boaters at the mouth of the Don River, the huge goose that steals tourist's lunches on Parliament Hill, and the enormous waterfowl that inspired the Alice Munro short story Big Goose, Dad has Alzheimer's all being vaunted as real contenders.
"Well, I'm not going to give anything away now, but I think people will be surprised by whomever we pick," said Trudeau to a senior journalist from the CBC, who happened to be a seven-foot Canada Goose, with a significant glance.
Although most say they would welcome a giant, pissed-off Goose as their Governor General, the idea has received pushback from the nation's timid children eating sandwiches by the waterfront.
Members of the giant goose community say they're hoping Trudeau makes 'the right decision', though, claiming a goose Governor General could help the world forget the involvement of Canada goose extremists in the downing of Capt. 'Sully' Sullenberger's US Airways flight 1549.