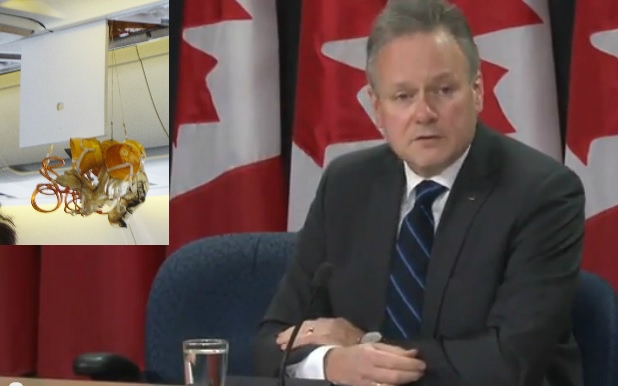 OTTAWA — Canadian journalists and investors were sent into a panic after the Bank of Canada Governor deployed the press room's emergency breathing apparatuses by mistake.
The incident occurred after Governor Stephen Poloz accidentally kicked the button located underneath his podium. Most in attendance were either asleep in their seats or reading a Harlequin novel when they were awoken by the sudden descent of a system only used in the event of a complete economic meltdown.
"Is there something wrong with the economy?" cried one Financial Post reporter who immediately began to hyperventilate while scrambling to reach the plastic mask.
Luckily, it was the investors first instinct to secure their own mask before helping others, as the safety video had advised.
Within moments, the TSX took a nosedive losing 300 points and investors stampeded in a wild panic to sell.
"I don't want to die!" exclaimed Globe and Mail reporter Barrie McKenna. "The economy is crashing! Why did we invest so much in gas and oil! I haven't even bought a yacht yet!"
Others in press room began to vomit in their Bank of Canada economy-sickness bags and began to pray that their portfolios haven't been touched.
However, Poloz managed to take control of the situation by announcing that he was leveling off the key interest rate at 0.5% and expects a smooth ride despite the poor forecast.